Profits up 200% for Midlands motor manufacturer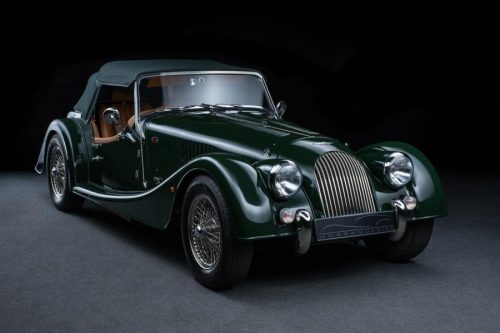 Specialist sports car manufacturer, Morgan Motor Company has announced record profitability and growth.
The Malvern-based firm, the largest British-owned motor manufacturer, has seen a 19% year-on-year growth in revenue.
Group margins increased by more than 12% compared with 2016 and pre-tax profit jumped by 200%, benefiting from strong sales overseas.
The strong performance is testament to the long-term strategy rolled out for the business by chairman Dominic Riley, together with managing director Steve Morris and the family shareholders.
For the 2017 financial year, the 109-year-old company saw revenue grow to £36m, while there was a 13% increase in group net assets. Pre-tax profit rose to £2m.
Highlights for the year included a new technological partnership with Frazer Nash for Electric Vehicle (EV) development, improved futureproofing with long-lead new model planning and strategic in-house appointments strengthening the management team. The latter was coupled with increased marketing activity.
The company's workforce stands at 208 employees, again a record for the business.
Product sales continued to be strong with export sales up 10%, helped by new partner growth within the global dealer network.
Recently launched models, the Aero GT and 50th Anniversary V8, sold out on release and all the vehicles produced at the Malvern factory continue to be pre-sold, with no vehicles being produced for pre-registration.
Last year also saw the re-acquisition of the land on which the factory is built, plus the purchase of the Visitor Centre. The company said this had proved a significant investment which would help to provide stable foundations for Morgan's future growth. It also reverses a land buy-back deal that has been effective since 2006.
Steve Morris, managing director, said: "The last year has seen us develop our long-term strategy for sustainable new products, exciting development plans, a visionary business approach and a real focus on longevity, customer care and dealer relations.
"To see such strong results for the business as a result shows that our strategy is sound and is a real credit to our dedicated, passionate and ever-growing workforce.
"But far from resting on our laurels, we are looking forward to a strong 2018, the next stage of which will see some brand new cars being unveiled at Geneva in a few weeks' time."
Dominic Riley, chairman, added: "Once again the results speak for themselves. We are stronger than ever with record revenue growth, increased employment, a clear vision for the future and strong demand for product from customers around the globe. Morgan Motor Company has never been stronger."