60 jobs created at £27m manufacturing site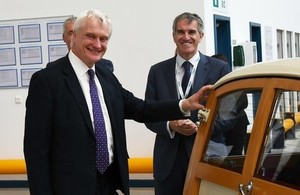 A £27m manufacturing site has been officially opened in Oldbury after creating 60 jobs.
Steel & Alloy built a 270,000 sq ft steel processing factory at Popes Lane, relocating from West Bromwich.
The site is the latest in a series of 40 global sites developed by Steel & Alloy's parent company Gonvarri Steel Services, which are strategically located close to the automotive industry.
Steel & Alloy's managing director Mark Cooper said: "The significant investment in Popes Lane, a state of the art steel processing centre, is an investment in the future of the automotive industry in the Midlands.
"This will allow Steel & Alloy to meet the ever-changing needs of our customers and the industry as a whole for years to come."
UK's Minister for Investment Graham Stuart, who officially opened the factory, added: "A thriving Midlands Engine is essential to our national economic success and it is fantastic to see foreign investment boosting a long-standing UK company here in the Black Country.
"As an international economic department, we will continue to use our sector specialists, regional exporters and staff in 108 countries to attract investment to the Midlands and support higher growth and better paying jobs."