£40,000 grant funds cafe enterprise at a Coventry school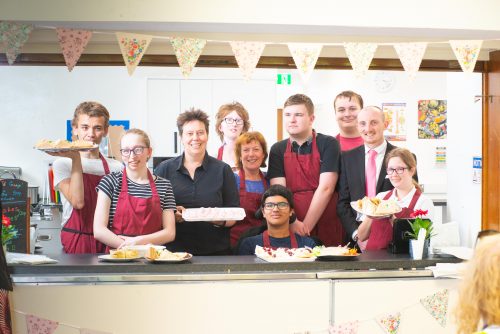 Exhall Grange Specialist School in Coventry has opened a cafe on a commercial basis to create career opportunities for students interested in the catering and hospitality industries.
The funding for Cafe Grange came from a Skills for Employment grant obtained from Warwickshire County Council, with the help of PET-Xi Training who assisted staff at Exhall Grange with their application.
Caroline Parkhouse, Assistant Headtecher – Post 16 at Exhall Grange said:"The cafe is based in an old school kitchen which had not been used for a long time and had become a storage room, so we have been able to use the grant to totally transform the area."
"The idea behind the cafe is to support our students with employment opportunities whether that is through internships, work placements or apprenticeships. We are open during schools hours and we are looking at opportunities to supply lunches for nearby businesses at Prologis Park."
The head of contracts at PET-Xi training, Gary Drake, said:"The school has a special place in the hearts of staff at PET-Xi training since it is where our managing director, Fleur Sexton was a teacher before she launched the business. We were delighted to support the schools with the application process because we could se the difference it would make to the students."
Cllr Izzi Seccombe, the leader of Warwickshire County Council added:"Currently, only around 15% of people with learning disabilities are employed, yet we know that young people with disabilities are skilled, reliable and want to work. Our ambition is to establish 100 supported internships across Warwickshire by 2021."
Supported internships are six months in duration on an unpaid work placement, during which a young person with special educational needs or a disability, is supported by a job coach who is funded by the government.
Cllr Seccombe concluded:"We are looking to work with around 20 businesses to achieve this in the next three years, so if you are a business and would like to be part of this initiative, please get in touch – we would love to talk to you."