String of new orders gives metal stamping specialist £1.5m export boost
A Birmingham metal stamping company is celebrating £1.5m export boost after securing a string of orders from the Netherlands, the US and, for the first time, Israel.
The contracts have helped Brandauer, which employs 67 people, increase sales to £9.2m. The deals have played a major part in the company recently securing the Queen's Award for Enterprise (International Trade) – one of only 16 companies in the West Midlands to achieve the accolade.
The management team are focused on doubling turnover to £18m by 2022 and have invested £3m in the latest metrology technology and high-speed presses from Bruderer and Yamada to achieve the ambitious plans.
Rowan Crozier, CEO of Brandauer, said: "There has been a lot of uncertainty with Brexit and falling demand in China, but that hasn't stopped us actively targeting international business and winning it.
"We have found that our ability to meet exacting tolerances within competitive lead times is in demand, even in the presswork 'powerhouse' of Germany where their specialists simply can't match our turnaround times."
He added: "Launching our new products, including Elopin (solderless press-fit connector), CB Cable Clips and turn-key tooling, has also been successful and contributed to the rise in export orders.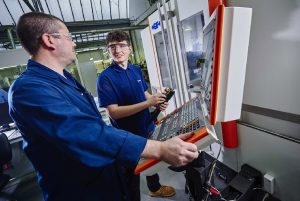 "The Queen's Award really is the icing on the cake and testament to the hard work, commitment and innovation all of our staff have put in to help make us a world leader.
"It's rare for a company of our size to achieve this accolade and we know it is going to be a fantastic marketing tool when tendering for more work in the United States and targeted expansion into consumer markets."
Established in 1862, Brandauer produces millions of high tolerance metal pressings and stampings every week for customers in the plumbing, automotive, domestic products, electrical, medical and renewables sectors.
Eighty-five per cent of the firm's current £9.2m annual sales is exported to international markets, half of which is direct from its factory in Birmingham.
This has gone up 4% year-on-year since 2015 and has seen it operate in more than 22 countries.
Crozier said: "What has been really pleasing is how the surge in orders has gone across our main areas of expertise, ranging from a grab ring business 'win' worth £500,000 to a turnkey tooling and stamping process in the US, worth the best part of £450,000.
"The real breakthrough moment for our business though was the contract in Israel, where we are supporting the expansion of a subscription razor company by producing the stainless steel frames the blades are fixed to. The lead came from a social media video and, when ramped up, will be around £1m per year in revenue."