Huge blaze rips through Black Country factory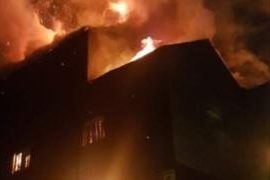 A severe blaze has ripped through an industrial unit in Dudley.
The blaze broke out in the four-storey building on Doulton Road in the early hours of Sunday morning.
About 30 firefighters tackled the blaze and pumped water from nearby Dudley Canal to bring the flames under control.
No-one is reported to have been injured in the fire.
A spokesman for West Midlands Fire Service said: "Our fire investigators are working to determine the cause.
"We will be working with businesses to support them."