Ed's Easy Diner owner flips Grand Central restaurant

Boparan Restaurant Group will launch a Slim Chickens restaurant next month in Grand Central, its fourth in the UK, in the same unit its old Ed's Easy Diner restaurant was situated.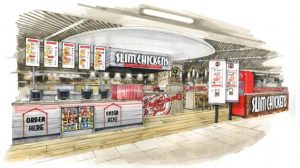 According to the group, the new restaurant will have 61 covers while creating 30 jobs, six of which have been offered to former Ed's Diner's employees after a company voluntary arrangement to close 27 Giraffe and Ed's Easy Diner restaurants was approved by creditors in March.
It will join other newcomers to Grand Central such as Herman Ze German, which opened last month, and follows three successful launches of the Slim Chickens restaurants in London and Cardiff, while other chains, such as Jamie Oliver's restaurants, Carluccio's, Byron Burger and Gourmet Burger have all been forced to close restaurants across the UK in recent months.
Tom Crowley, CEO of Boparan Restaurant Group, said: "The feedback on our previous Slim Chickens UK launches has been overwhelmingly positive so far. Our restaurant will offer a true Southern US hospitality experience to Birmingham and we are looking forward to welcoming our first customers when we open our doors on Tuesday 25 June."
The chain has been introduced to the UK by Ranjit Singh Boparan, owner of the company, who is known as "The Chicken King" after founding the 2 Sisters Food Group.
Slim Chickens opened its first ever location in Arkansas in 2003, before rapidly expanding to other US southern states, quickly reaching the 80-restaurant mark. The brand has plans to open more UK restaurants in the upcoming years.