Manufacturer tees up Canadian opportunities for its driverless vehicles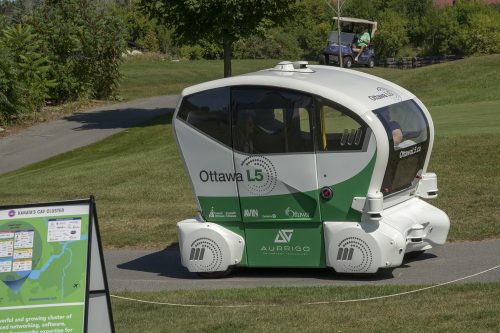 Driverless vehicle manufacturer Aurrigo hopes to have teed up more overseas orders after completing a trial in Canada.
The Coventry company used a golf club in Ottawa to demonstrate its technology across a route that included hills, a tunnel, narrow tree-covered bridges and many twists and turns.
More than 350 people took part in its first-ever public autonomous trial in the country, which it hopes will lead to new opportunities in North America.
The Canadian trial comes just a few weeks after Aurrigo announced £1.5m of orders from across the world, including Australia, Finland and China. It is forecasting another £6m of orders by the end of next year.
Aurrigo joined forces with the Ottawa L5 powered by Invest Ottawa and the Kanata North Business Association.
David Keene, chief executive of Aurrigo, said: "Ottawa L5 was one of the early adopters of our Pod Zero technology and, over the last 18 months, we have developed a strategic relationship that truly leverages our respective strengths.
"Our pods represent impactful first and last mile transport solutions with deployment opportunities in a commercial, leisure, education or retail environment. There's a really
strong supply chain in Ottawa that can help support our roll-out in this area and other Canadian cities."
Michael Tremblay, president and chief executive of Invest Ottawa and Bayview Yards, said: "This trial builds on our collective strengths and puts them to work in a community use case to support the ongoing development and safe deployment of CAV [connected and autonomous vehicles] pods and shuttles."