Last chance to join this week's Friday Wine Club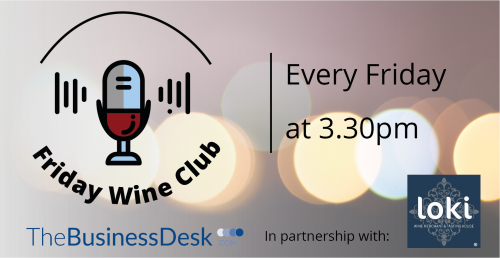 It's getting harder to remember what day of the week it is, and there's a danger that Poets' Day will instead just feel like Groundhog Day.
So TheBusinessDesk.com and Loki are launching Friday Wine Club, to mark the end of the week with some business chat accompanied by a drop of wine.
Each week, TheBusinessDesk.com co-managing director, Alex Turner, and founder of Loki, Phil Innes, will be joined by a couple of guests from the world of business (remotely, for now) to talk about topical business issues, mixed in with some wine tasting, as we test the veracity of the phrase in vino veritas.
This Friday, our special guest is Tony Elvin, former Hotel du Vin boss and now general manager at Touchwood in Solihull.
All this will take place on Zoom – click here to sign up – and you're welcome to pour a glass of wine while you tune in. We reckon you'll have earned it!
Our first Friday Wine Club will take place on Friday, April 3, at 3.30pm. It will last for about 45 minutes, so we won't be able to fully put the world to rights, but we plan on making a good start…
To register for the webinar: