Former Jewellery Quarter BID chair loses battle with cancer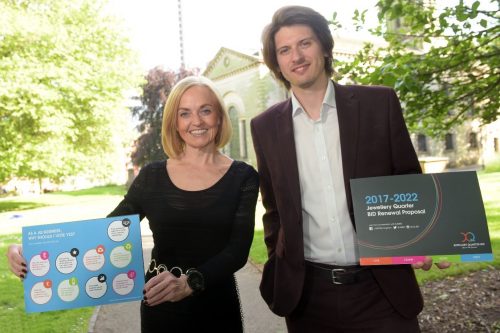 The former chair of the Jewellery Quarter Business Improvement District (JQBID), Nicola Ridler, has passed away after a two-and-a-half year battle with cancer.
She passed away on Sunday April 5 with her family by her side.
Nicola was diagnosed with stage 4 bowel cancer in August of 2017 and after being given just six months to live, battled on.
A statement from the JQBID said: "As chair of the BID for four years, we are so thankful for Nicola's support and we will miss her greatly.
"Nicola lived by her motto of 'get up, show up and never give up' — and it's this enthusiasm, energy and strength that will leave such a hole in the heart of the Jewellery Quarter community.
"Our thoughts are with Nicola's family and many friends at this difficult time."
Nicola was appointed BID chair in 2016 and has been supporting a team of staff to help spearhead improvements to the Jewellery Quarter's business environment and enhance the area as a place to live, work, visit and invest in.
As Chair of the BID, Nicola was instrumental in setting up many of the BID's projects including the Jewellery Quarter Festival, the largest annual event delivered by the team. Nicola was hands-on from the very beginning using previous contacts to help source suppliers and being on-site every year to pitch in with the team to deliver a hugely successful event that has grown to welcome over 15,000 visits to the Quarter each year.