Amazon hits back over West Midlands health and safaty claims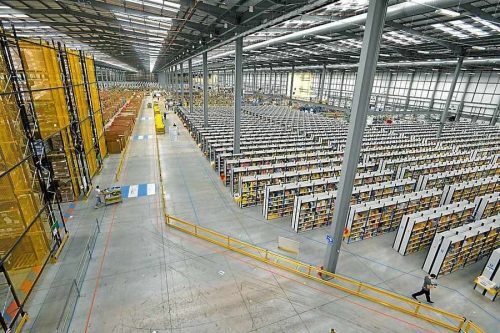 Retail giant Amazon has hit back over claims that its West Midlands warehouses are "breeding grounds for coronavirus".
The online retail giant came under fire from GMB union over the weekend, after being accused of a failure to protect workers during the Covid-19 outbreak.
GMB says its members are being made to clock in and out at the same time as hundreds of others, while packed company buses ferry workers back and forth.
GMB has also accused Amazon of forcing its workers to pack and pick items in cramped aisles, with no hand sanitiser, gloves or masks available. Meanwhile communal water fountains are still in use, says the union.
Amazon has denied these claims and has set out its health and safety procedures during the current crisis in a detailed blog, which outlines, among other measures, an increase in the frequency and intensity of cleaning at all sites, including: regular sanitisation of door handles, handrails, touch screens, scanners, and other frequently touched areas; the elimination of practices so that its fulfilment centre employees can maintain a safer distance from co-workers. This includes eliminating stand-up meetings during shifts; improved employee communication over hand-washing; daily audits of health and safety measures; a 14-day paid quarantine period of a member of staff feels unwell; and processes for staff to keep in touch with their families of childcare providers.
A spokesperson from Amazon told TheBusinessDesk.com: "Since the early days of this situation, we have worked closely with health authorities to proactively respond, ensuring we continue to serve people while taking care of our associates and teams. We have also implemented proactive measures at our facilities to protect employees including increased cleaning at all facilities, maintaining social distance in our centres, and adding distance between drivers and customers when making deliveries."