Birmingham drinks business heads online after landing bank support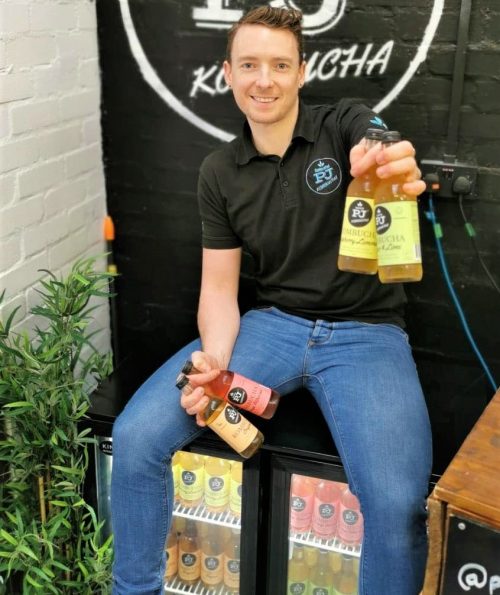 A specialist health drinks manufacturer which normally sells products in independent retailers is developing its online business following the outbreak of coronavirus.
Birmingham-based PJ Kombucha is a family-owned and independent business producing authentic kombucha products. Kombucha is a fermented drink and is widely consumed for its health benefits.
PJ Kombucha founder Patrick O'Connor developed the brand wanting to bring a completely authentic Kombucha product to the UK market. The business has been running since 2017.
O'Connor said: "We have developed a product that we believe in. Every batch is brewed and tasted by myself prior to release. We use a brewing method based on ancient Kombucha techniques and we aim to produce the most natural Kombucha possible.
"It's been a slow process. We are a family-owned business but mostly operated by me. My dad is in the retail business and has been incredibly supportive in helping me develop the business which has mostly seen us supply specialist stores with our products to date."
PJ Kombucha is part of the NatWest Accelerator programme. Following the outbreak of coronavirus, O'Connor saw the need to pivot his business and focus more on the online retail side of things.
He said: "I spoke to NatWest about a payment holiday and it was probably the easiest thing that I have ever done. I've also been able to extend my overdraft limit just to ensure I have some cashflow over this period. We are still getting a small amount of business, but we lost 85% of business as we supply cafes and shops which aren't open.
"When I started the business, the focus was traditional retailers, but I am re-examining things over this period and plan to develop the online offering from there. My aim would be to get around 50 per cent of our normal business through online sales."
Pam Sheemar, entrepreneur development manager at NatWest, said: "It's a challenging time for Patrick and many of our entrepreneurs. Patrick has shown his determination to succeed and has developed a sustainable plan to help him continue to operate over this period. We were delighted we could support him and wish every success for the future."