Plans for new Birmingham railway station given the nod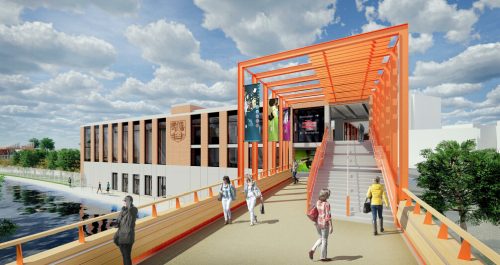 Plans for a new railway station at the University of Birmingham have been given the go-ahead by Birmingham City Council planning chiefs.
The scheme will see a totally new station building, along with 2,700 sq ft of commercial space and a footbridge over the canal which will link the university campus and the station.
The scheme has been designed by Associated Architects and is being sponsored by the West Midlands Combined Authority (WMCA).
A planning statement accompanying the plans reads: "The WMCA are seeking to deliver a new University Station building with enhanced passenger facilities.
"It will be welcoming, safe and a gateway to a world class University as well as to a leading centre for medical care and will provide a fit for purpose facility for visitors.
"The proposed development involves the construction of a new station building north of the existing station, and will provide improved connectivity to the surrounding area, along with provision of a new footbridge over the canal providing direct access to the University of Birmingham (UoB) Edgbaston campus."
University Station opened in 1978 and was built to handle 400,000 passengers a year. It is now creaking under the weight of almost 3.5 million train users a year. This figure is set to increase further to 7 million by 2043.
The planning statement adds: "The new University Station will better serve the local community through an improved customer experience, making more of the canal frontage and improving connectivity to UoB and NHS sites.
"It will also support and compliment major increases in economic activity and infrastructure development in the area."
WMCA wants the station to be open by the end of 2021 – in time for the Commonwealth Games the following year.