Eating out – Dishoom
Our head of sales, Brett Murray, paid the Dishoom's new Birmingham restaurant a visit.
Okay, so I hadn't eaten out in months… that said I was very much looking forward to this. Dishoom had opened in Birmingham Centre just before lockdown and from the family I have in London I had heard great things. I genuinely was not disappointed in any way. It was my birthday the day before so eating out with my partner and four-year-old was a nice little family treat.
This amazing aroma hits you first as you just pass reception and you think: "That's not curry… what is it, though?" It's a mix of the food being cooked at the open kitchen we have just walked past and the incense subtly burning away dotted around the room. The ambience and authentic decor (brought straight from Bombay we were told by our waitress) managed to quickly take our thoughts away from Birmingham to somewhere we have never been – India. The anticipation of a great meal was there instantly.
Our waitress, Serica, was fantastic with us all service. Not knowing what to order, as it is not your traditional curry house, we listened intently to her recommendations. We trusted Serica with our order, she definitely guided us on what was popular. We overheard other waiters talking through the menu with the same enthusiasm our waitress had.
As all the food comes out as and when it is ready there is no set starter. Although the Okra fries arrived very soon after the ice cold Kingfisher. Okra fries I think will be something I would be happy to live off. Not what I was expecting and the benchmark has been set high. The concept of the food being served as and when it is ready will serve the busy business community well during a fast lunch service as well as visitors to the city centre.
We ordered a number of dishes to try. It felt a little like an Indian tapas style table. Little dishes to share and dip into. The naan breads were traditional flatbreads that had fillings. I opted for a cheese naan bread while my partner the garlic. The garlic was more of a flavour that we were used to but our four-year-old loved the one with the cheese. That said I did use the last of the breads to mop up bowls and plates. As you should with a curry.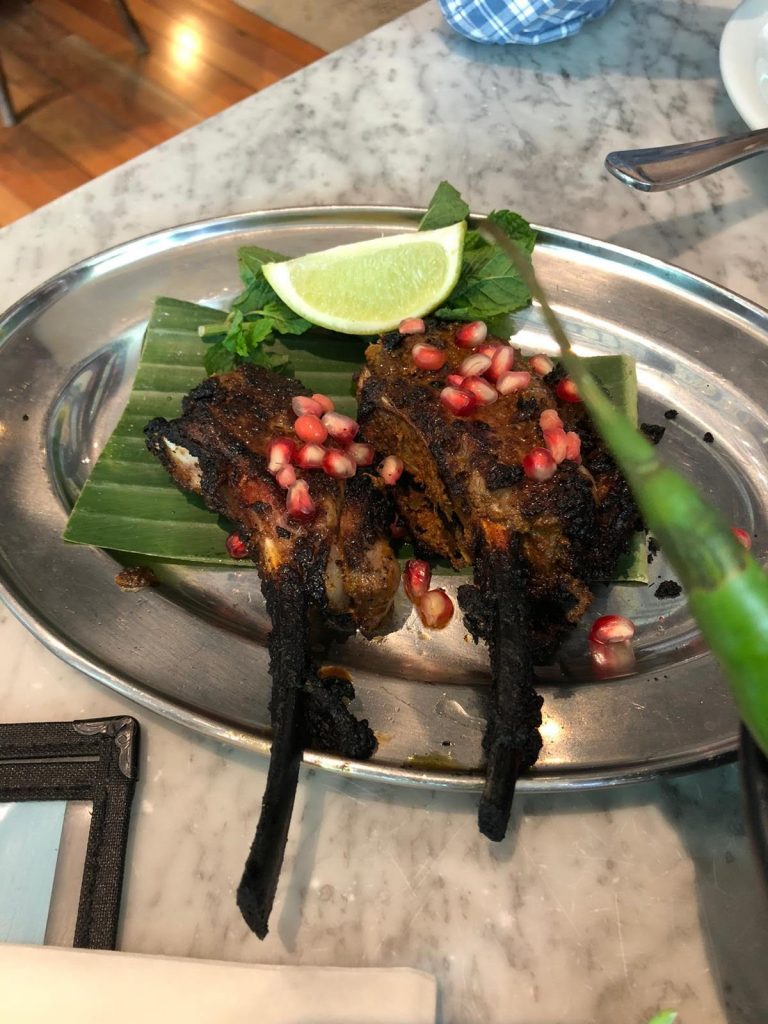 We tried a number of different dishes that were recommended to us. There was probably enough to feed a household for a weekend, but we fully bought into trying lots of dishes. One of the first dishes to arrive was the Grilled Masala Prawns – nice little bite and great start to the meal. You could smell them instantly when brought to the table. At the same time we ate Pau Bhaji which is served with a brioche bun. The naan breads had not arrived yet and the single bun did not last long dipping into this. Perhaps a second as standard would be great but we mopped up the remains with our naan. The Lamb Chops came with pomegranate seeds topping the dish and the little fruit juice pops complimented the Spicy Curried Lamb perfectly.
With a surname like Murray I had to try the Chicken Ruby Murray that was on the menu. I am not being biased due to the name but please try it yourself. The most succulent of chicken cooked to the point of almost being pulled and an unbelievable butter based sauce. This was my personal dish of the day out of so many great tastes that we had.
Honestly, not a single fault. It is true that we haven't been out and about in a while, but myself and family thoroughly enjoyed this meal and undoubtedly will be back for more.and more and more.
It's a great venue and location for Birmingham visitors as well as the business community. As soon as there is a networking event to be held at Dishoom my name will be on the list.