Regeneration manager appointed ahead of Commonwealth Games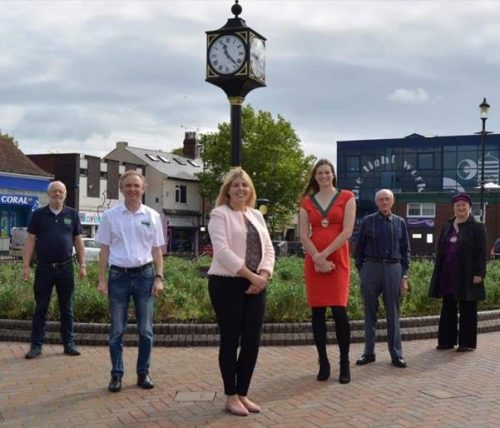 Hednesford Town Council has announced the appointment of its first town regeneration manager.
The former mining town, which is currently seeking new tenants for the large Midcounties Co-operative and B&M sites, has never had a full-time employee focused entirely on attracting new public and private investment and better promoting the town ahead of the upcoming Commonwealth Games.
Rugeley-based Michelle Baker has held multiple town and city centre management roles over the past 12 years including in Staines, Epsom & Lichfield.
To date, she has already developed the new Visit Hednesford brand to encourage more people to take advantage of the shops in the town at no cost to tax payers and has launched a survey of local businesses to ensure their voices are heard as part of regeneration plans.
Key to her role will be increasing footfall in the town centre, making the Hednesford a more desirable place to shop and do business and addressing the vacant units in the town centre.
Chairman of Hednesford Town Council, Cllr Kathryn Downs said: "It is not generally known by the public that a town councillor role is entirely voluntary. We can do a certain amount through our actions and the many voluntary groups that our current councillors are members of. This can be seen through the artisan markets, summer festivals, Christmas lights switch on and regular food donation events headed up by councillors and volunteers like Robin Kingston and Debbie Cartwright.
"To ensure the long-term benefits to Hednesford we were elected to deliver, however, we need expert input and I'm pleased to say that in Michelle we have found someone who has unrivalled expertise and is also local enough to the area to understand the needs and wants of a small but growing former mining town. The actions that Michelle has taken already have been incredible not least of which is the creation of the new Visit Hednesford brand at zero additional cost, something that other councils would and have spent thousands-of-pounds on."
Baker said: "Over the past twelve years I've supported towns and cities including North Nottinghamshire, Peterborough, Abingdon, Gosport, Burnley, Staines, Epsom and the London Borough of Sutton. Throughout that time, I've been looking for ways to use my skills closer to home and improve the local area. When I saw the Hednesford Town Council role I jumped at the opportunity and I'm pleased to say that through initiatives like the artisan market, introduction of speed indication devices and improvements to the miner's lamp in Hednesford councillors have given me an incredible head start.
"I am looking forward to working with the community on our aim to deliver an enjoyable, shopping and leisure experience within the town. We're preparing a 12-month series of exciting events for 2021 alongside local businesses, with current ideas including a monthly Farmers Market, annual food festival, car shows and an open-air cinema."