'Take chances – and don't take no for an answer'
Paul Campbell is the chief executive of Richborough Estates –  one of the UK's most successful strategic land promoters. The company is passionate about bringing forward land in sustainable locations that will make great places to live.


Using a design-led and consultative approach Richborough Estates quickly secures planning permission at its risk for even the most complex of sites, and solve any environmental and technical challenges ready for our housebuilder partners.
Its team is made up of some of the UK's most skilled and experienced architects, urban designers, surveyors, planners and housebuilding professionals.
---
There's never a dull day.The sheer variety of what we do as a business means I get involved in technical, financial, commercial and political matters.  No site is the same as another, which keeps things very interesting and challenging. We aim to deliver on our fantastic pipeline of sites that we have invested in over the years and to press on with our growth plans.
Training is essential.  Setting aside Covid-19, the skills shortage in the sector is the most pressing issue facing the industry as we look to deliver an increased number of houses.  With Brexit affecting freedom of movement it will be important that we allow the right talent into the country and invest more heavily in training and education.
Our industry is 'match-fit'. It has probably been Brexit with the constant fear of the cliff-edge exit inhibiting investment during the period.  It did however make the housebuilders very "match-fit" going into the Covid-19 disruption with record forward order books and prudent WIP management meaning they are positioned well to handle the challenges.
Carpe diem – and never give up. I noticed when I started my career that many colleagues didn't enjoy their job or regretted not taking chances when they were younger.  I wanted to work in development, and I made tactical career moves to get from working as a quantity surveyor for a building contractor to a development role which is not an obvious progression.  You need to work harder than the next person, take chances and don't take no for an answer
Downtime is precious. Having three children mean there isn't a huge amount of relaxing but I enjoy keeping fit, watching Wolves with my son and going to restaurants with friends
---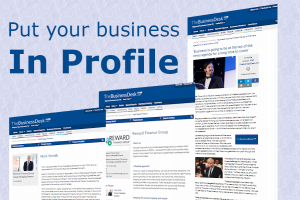 Appear in your own In Profile feature by signing up for a Business Profile on TheBusinessDesk.com.
The company and individual profiles on TheBusinessDesk.com are designed to help our clients build corporate and individual awareness within the regional business community and benefit from TheBusinessDesk's traffic and visibility in the business community and the search engines.