People: The latest West Midlands hires
Women in Property has announced its incoming Midlands chair for 2021/22.
Sophie Smith takes the role as regional head of the property and construction industry influencer and networking organisation for one year.
Smith, who has been a member of Women in Property for four years, works for Spitfire Bespoke Homes, based in Solihull, where she specialises in the acquisition of land for new build development.
She said: "As a branch we are continuing to work together to ensure the industry stays resilient and that we continue to attract many more people to the property sector. We hope the range of events and webinars alongside the support that we offer as an organisation will assist in doing so.
"We have all seen remarkable courage and resilience across the property and construction industry and in wider society.  It can be tough, stepping outside of our personal comfort zones but inevitably this is what gives us the confidence to thrive.  This has a lot to do with inclusion and working together and, as a respected influencer organisation, we will be building on the great work our members have been doing to improve inclusion and diversity.  I look forward to broadening our networks across this region, to work towards a more sustainable future."
:::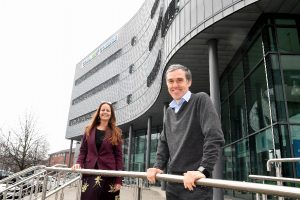 Coventry College has made a senior appointment to aid the further education provider's plans for future growth.
Simon Crick has been appointed as vice principal finance and resources and will be working alongside the college's principal and CEO, Carol Thomas, to lay the financial foundations for the organisation's future development.
Crick recently held chief financial officer roles at the University of Warwick Medical School, and at the Office of the Police and Crime Commissioner Staffordshire.
His appointment comes as Coventry College prepares to consolidate into a single campus from September 2021 at its Swanswell Street base – which will cater for up to 8,000 students.
Crick said: "I am very happy and excited to join Coventry College, which is a key public institution in a city where I have lived for the last 32 years.
"The college is undergoing substantial change behind the scenes to ensure it is fit for the future needs of a city that is continuing to regenerate, and I'm excited to be given the opportunity to use all of my knowledge and experience to support this.
"The college has so much untapped potential, and it's important that from a financial and resource perspective that we are capable of adapting and capitalising not only on our strengths as a College, but also future opportunities – be that with adapting or launching new courses in line with demand, investing in equipment or forging new partnerships."
Crick's arrival comes as Coventry College also begins a recruitment drive for the newly-created senior position of vice principal for curriculum, innovation and the learner journey.