£256,000 supports redevelopment of Birmingham's Symphony Hall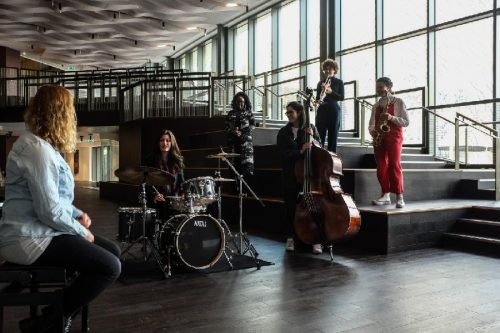 The West Midlands Combined Authority (WMCA) has committed £256,000 towards the redevelopment of Birmingham's Symphony Hall.
Working with arts charity Town Hall Symphony Hall, the investment will help fund the refurbishment of the foyer and the construction of a new entrance way.
The construction project extends and remodels Symphony Hall's public spaces to create a building that is economically sustainable and connected to Centenary Square and surrounding areas.
Andy Street, the Mayor of the West Midlands and former vice-chair of Performances Birmingham, which runs both Symphony Hall and the Town Hall, said: "Symphony Hall is one of the West Midlands' best landmarks and a real jewel in Birmingham's crown, and so it is brilliant to see the venue swing open its doors to musicians again after undergoing a stunning transformation."
Home of the City of Birmingham Symphony Orchestra, Symphony Hall is renowned for its acoustic excellence.
The project will create more than 528 jobs, 21 of which are due to the WMCA funding. Additionally, the project will deliver a further nine apprenticeships.
Originally designed by the Percy Thomas Partnership and Renton Howard Wood Levin in the late 1980s, the 3,000 capacity Birmingham Symphony Hall opened in 1991.
Performances Birmingham, the charitable trust which manages Birmingham Town Hall and Symphony Hall, presents more than 600 events a year.
Nick Reed, chief executive of Performances Birmingham, said: "I am thrilled we can share the first glimpses of the new Symphony Hall following the completion of the Making an Entrance project.
"The redevelopment of Birmingham's world-renowned concert hall would not have been possible without the generous funding provided by the WMCA. We thank the combined authority for its financial contribution and its continued support of the arts and culture throughout the city.
"Over the past 18 months we have worked with various teams to transform the public spaces of our iconic concert hall to create new spaces for performance and learning, giving new opportunities for local musicians, and supporting our local community in musical discoveries."