Network with national business leaders at Invest Midlands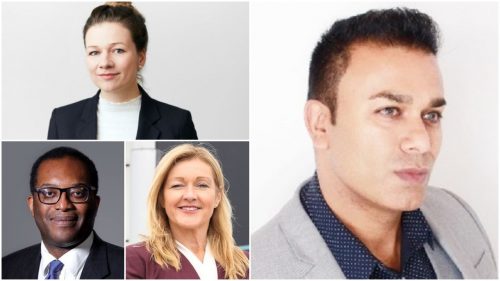 Pictured above, clockwise: Kathrin Enenkel, Centre for Cities; Shehzad Chaudhary, DIT; Clare James, East Midlands Airport, Rt, Hon. Kwasi Kwarteng MP, Secretary of State – Department of Business, Energy & Industrial Strategy
TheBusinessDesk.com is offering business owners and professionals in the Midlands chance to discover the investment opportunities the region has to offer by inviting you to our Invest Midlands online conference.
This event, which will take place on Wednesday 26 May, follows on from the hugely successful Invest North event in March, which brought together around 500 regional, national and international decision-makers to discuss the region's economy and future.
Now, we'd like to invite you to find out what the Midlands has to offer to your business and extend the chance for you to secure your tickets for an event which will shine a light on what's really happening in the region.
You'll have the chance to listen to keynote speeches from Business Secretary Rt Hon. Kwasi Kwarteng, who will outline the ambition for the Midlands and look towards its post-pandemic future as a real engine of growth.
He will be joined by leaders from across the region, including Midlands Engine chairman Sir John Peace and the winner of the West Midlands Mayoral race to be held earlier in May.
Click here to secure your tickets
John Russell, CEO of Norton Motorcycles will talk about the future of automotive, while the new CEO of the Greater Birmingham Chamber of Commerce, Henrietta Brealey, will join a panel discussion examining Pandemic Recovery and Future Growth.
Robert Franks, managing director of West Midlands 5G and Jane Woods, group nations and regions director at BT, will discuss the digital roadmap of the Midlands.
Shehzad Chaudhary, deputy director – trade and investment Midlands at DIT, Stephen Pratt, director of Godwin Developments, Dafydd Williams, head of policy, communications & economic development (Humber) at Associated British Ports and Pat Doody, chair of Greater Lincolnshire LEP will join a session looking at the two Midlands Freeports as a gateway to growth.
Click here to secure your tickets
Also, Ian Reid, the chief executive of the Birmingham 2022 Commonwealth Games Organising Committee, and Gurmit Klur of the University of Birmingham will speak on how the event will showcase the city and region to the wider world.
Kathrin Enenkel, senior analyst for Centre for Cities, Jo Gideon, MP for Stoke-on-Trent Central and PPS to the Business Energy and Industrial Strategy Department, and Phil Stewardson, director at Stewardson Developments, will join a panel session looking at placemaking with a purpose: the future of towns and cities.
Ken Cooper, managing director at the British Business Bank, will lead a panel discussing how to fund SME growth through post-pandemic recovery.
Click here to secure your tickets
Meanwhile, Claire James, MD of East Midlands Airport, Dave Penney of Network Rail and Maria Machanchoses will debate whether the Midlands Engine is joined up – or two separate islands, in a much-needed debate on transport in the region.
Reshma Sheikh of Octavian UK, Sarah King of We Are Radikl, Anita Bhalla OBE of the West Midlands Leadership Commission and Tru Powell of Aston Performing Arts Academy will take a look at the importance of diversity and how businesses should place it at the heart of growth.
The vastly-important automotive sector will be debated by John Russell of Norton Motorycles, Charlotte Horobin of MAKE UK, Derby entrepreneur Graham Mulholland and Chris Reeves of Horiba Mira.
Click here to secure your tickets
The Big Ideas to Change the Midlands session will see Matheu Parr of Rolls-Royce, Christopher Ware of Conygar and Ricky Sandhu of Urban-Air Port outline their vision for the future of the region.
The full agenda – which can be viewed here – puts the spotlight on the issues that will transform the economy in the years ahead and represents the very best of the Midlands.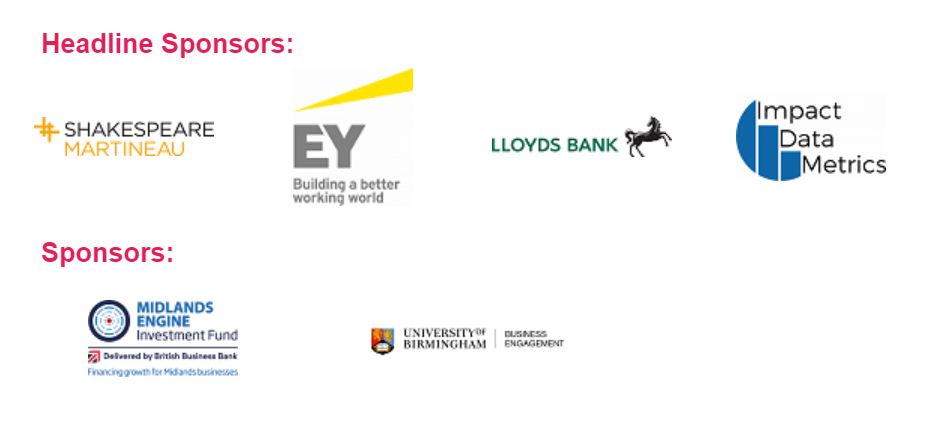 Channel partners: