Warwick says 'gin gin' to new bar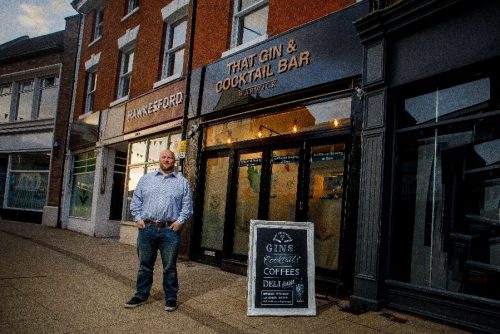 A new gin bar is set to open its doors in Warwick today.
That Gin & Cocktail Bar on Swan Street marks the latest venture for Steve Bazell who has worked in local hospitality for the last 20 years and is one half of the team behind the successful That little Gin & Prosecco Bar in his home town of Stratford-upon-Avon.
He said: "The core concept is about buying through flavours, not through brands, and giving people a truly unique experience. We want to enable people to explore different flavour profiles by talking to us about what they enjoy so we serve the right drink for them from our extensive range. Its all about finding 'your' perfect drink.
"This method of ordering your gin is unique and not something we've been able to find anywhere else in the country. I thought Warwick was well suited to this kind of concept."
Many local distillers are among more than 100 different gins to be stocked at the bar, where there will be the opportunity to showcase their local provenance.
"When you go to the bar you often opt for the gin that you know. We offer the customer a choice of a few that fit their description and have a conversation about them. Ideally we'd like people to try something they haven't tried before," Bazell added.
"Also, we use a base gin from one of our distillers and infuse it with our own flavouring so that gives us the ability to come up with new flavours that aren't on the standard supermarket shelf and means it's a unique gin every time."
As well as gin, visitors can select from a range of cocktails, wines and spirits, including five different types of prosecco. And drivers and under 18s can also get into the 'spirit' with alcohol-free gins.
Plans to open in December were stalled by the third lockdown, but Bazell, who was aided by a Government grant, is confident That Gin & Cocktail Bar will have been worth the wait for locals.
He said: "I feel proud to see it come to fruition because it's a concept that was borne out of a conversation four years ago.
"When we took this place on late last year it was with the belief that we were coming out of the pandemic but this suddenly changed so we had to be flexible, which you always have to be in business. Now things are looking more positive and we believe people are desperate to come out again.
"I have a strong feeling that town centres can thrive but businesses now, more than ever, have to offer a unique kind of experience that you just wouldn't get online. So hopefully this is the format to get town centres vibrant again, by offering something different and independent. It supports a thriving local economy and helps it to move forward."