LoveBrum co-founder named in Queen's Birthday Honours List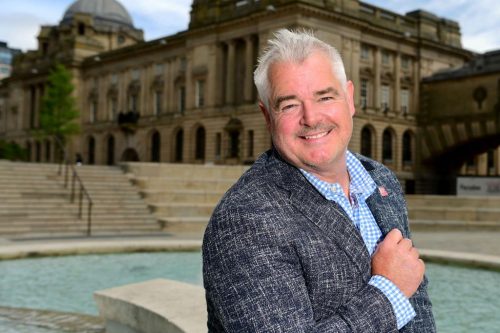 X

Register for free to receive latest news stories direct to your inbox
Register
Some 23 people from across the West Midlands have been named in The Queen's Birthday Honours List and include 1 x CBE, 1 x OBE, 11 x MBEs and 10 x people who are awarded a BEM (British Empire Medal).
Each year The Queen recognises the extraordinary achievements of people from all walks of life and all ages, within our communities. In addition to these people who really make a difference to the lives of those around them, this year's list also includes special mention of those who went above and beyond in supporting each other during the Covid-19 pandemic.
This year's recipients, who have made a significant contribution, made a positive impact and delivered significant outcomes, come from all across the West Midlands including: Birmingham (8), Coventry (4), Dudley (4), Solihull (5), Walsall (1) and Wolverhampton (1).
Among this year's list is Tim Andrews, the co-founder of LoveBrum, who has been awarded an MBE for services to charity and the community in Birmingham.
Andrews said: "This absolutely has been a great surprise and a huge honour and I'm bursting with pride at having been recognised by the Queen on this year's Birthday Honours List."
"I am truly honoured to have been made an MBE and I share this special moment with my family and close friends. LoveBrum was founded on the basis of being a force for good for Birmingham so without the city's incredible community our achievements wouldn't be possible. Many individuals have personally helped me along the way and I'd like to dedicate this honour to the people of Birmingham who have shown incredible resilience and togetherness during unprecedented times. I am proud to be a Brummie."
Andrews has raised in excess of £750k for local causes by organising and hosting a number of charity events, and has picked up a number of accolades including a Points of Light award from the Prime Minister, CEO of the year at Downtown in Business, Local Hero of the Year from Birmingham Mail, CSR award from TheBusinessdesk.com, Brummie of the Year at Birmingham Awards and West Midlands regional IOD Director of the Year.
He added: "I would also like to dedicate this award to my late father John Andrews. We started Hollywood Monster together in our loft space and none of this would have happened without his support and confidence in me and it's such a shame he is not here for him to share this."
Co-founded by Andrews and PJ Ellis, LoveBrum supporters vote on live projects and everyone has a say in which projects are supported, meaning all funds raised help to boost the local charitable economy and the best part is, every penny raised from individual memberships and fundraising goes straight to the causes.
Andrews has forged a successful career and business in Birmingham as Chairman of Hollywood Monster, a graphics firm that has become one of the largest in its sector, with 70 employees and a £10m turnover with min blue chip companies. In late 2020, he became a non-executive director for digital agency Lightbox, and joined start-up tech firm Work From Here as a shareholder.
Andrews is also particularly proud of his time as CEO Birmingham City Ladies Football Club. With Tim's involvement, the team won The FA Cup, reached semi finalists in the Champions League and became League Cup runners up several times and also runners up in the FA Women's Super League.
Other notable West Midlands figures featuring in the List include Mike Hopkins, principal at South and City College in Birmingham, who receives an MBE for Services to Education, and Julian Lloyd Webber of Birmingham Conservatoire, who receives an OBE for Services to Music.
The Lord-Lieutenant of the West Midlands, John Crabtree OBE said; "Making up the fabric of the West Midlands are some amazing people whose stamina, ambitions and work quietly deliver a better, brighter and kinder place. These people with big hearts are often known within their neighbourhoods but fail to gain the wider credit they deserve and never has this been more prevalent than during the recent Covid crisis.
"This year's recipients showcase a range of outstanding achievements and provide an insight into the region and the people that make it so great. We are all very grateful for what they do each and every day and I am absolutely delighted to see so many gain the recognition they deserve in this year's Birthday Honours.
"Through the activities of the West Midlands Lieutenancy, I come across many people providing support and giving their time to help others. Now more than ever, there are so many unsung heroes who deserve to be honoured but they need someone to nominate them. Therefore, I would encourage people from across the region to get involved and think about who is making a difference in your local area so that we can continue to recognise these individuals for the great work they are doing."