Albert Schloss is ready to say 'guten tag' to Birmingham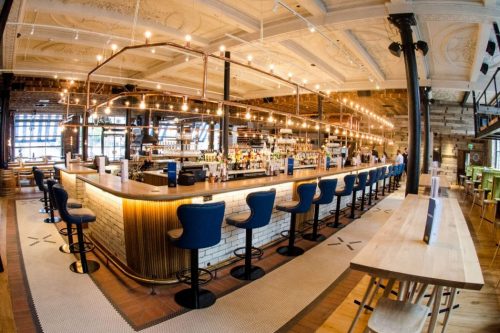 Six years following its Manchester launch, Mission Mars is to open Albert Schloss in Birmingham.
Located at Paradise, the 13,000 sq ft bar, restaurant, tavern and theatre is inspired by the Bavarian Alps and Bohemia and can host 500 revellers.
The venue will operate over two floors with three bars – the largest of which is more than 100 ft long. Accompanying this is an outside terrace complete with a restored Citroen Van bier bar.
Director of Mission Mars, Neil Macloed said Birmingham was at the top of its list for a second site.
"It is difficult to find the right city, the right building and in the right location. Birmingham has a good population size and it's closer to Manchester and we know from experience, the closer you are to your first site, the better you do with your second one.
"Albert Schloss needs to be in a building that is palatial, a grandeur space for people coming in. Paradise came available as another organisation fell away due to Covid. It's a very high-quality development right in the middle of this wonderful city."
At least 150 full-time jobs have been created, headed up by general manager Adin Memetovic. Head chef Jack Cinense, previous head chef of Gusto, is in 'The Cook Haus'.
Macloed says throughout the busy Christmas period for the hospitality sector, it's important to look after the new and in some cases young and inexperienced floor staff.
"Our priority is to provide a real quality, fun, safe, unique experience for a sensible number of people as we go through Christmas.
"Something that we're absolutely certain on is that when your team isn't having a good time, your guests aren't having a good time. We want to make sure they don't get overrun or stressed and just enjoy themselves too."
The uniqueness of Albert Schloss Macloed says is its product of unique lager, homemade food and entertainment seven nights a week.
He said: "That beer is as fresh as it is in the pub at the gates of the brewery in the Czech Republic. We have entertainment seven nights a week of entertainment with artists we work with directly, from cabaret to duelling piano presentations, bands to choirs and dancers."
Albert's Schloss is brought to Birmingham by Mission Mars, an award-winning group that also operates; Manchester's Albert Hall (a 2,500-capacity gig/club venue), Rudy's Neapolitan Pizza and Zumhof Biergarten in Digbeth.
Macleod said: "Whatever age, your social background, culture, nationality, as long as people are coming there to have a good time themselves and not to stop other people having a good time. They're welcome at Albert Schloss."
The venue opens on the 6th of December.