Private sector upbeat for expansion if Covid cases decrease

From the challenges Covid-19 brought in 2021, NatWest's PMI® says private sector companies in the West Midlands were strongly upbeat that output would expand during 2022, but this was pinned on hopes that the pandemic and associated restrictions would recede.
Data from NatWest highlighted growth in the West Midlands private sector for the eleventh-month running but the rate of increase slowed to its weakest over this period.
According to the NatWest's PMI® Business Activity Index, only a marginal rate of expansion occurred in the regions manufacturing and service sectors. Indications show that growth was impacted by rising Covid-19 cases resulting in an effect on customer confidence, alongside material and staff shortages.
New orders at private sector companies in the region also dipped ending a nine-month sequence of expansion. Yet again, reasons point towards fears of the Omicron variant and reduced client numbers. This however, was a contrast to the rest of the UK where NatWest says new businesses rose solidly.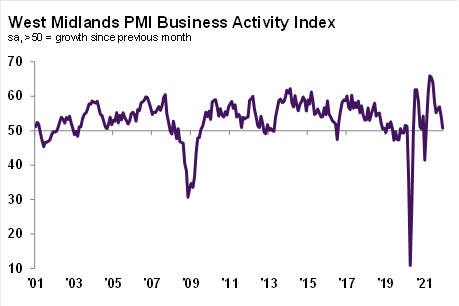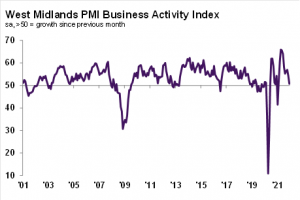 Rising operating expenses continued due to higher freight, raw materials and wage costs due to shortages and the shipping crisis. The increases in costs encouraged the private sector to increase its selling prices.
John Maude, NatWest Midlands and East Regional Board, said: "Growth in the West Midlands took a step back at the end of 2021, as the fast spread of the Omicron variant caused heightened uncertainty among customers who postponed purchases. Companies were also negatively impacted by shortages of staff and materials.
"While local output rose in December, overall sales were stagnant. However, firms expect the slowdown to be short-lived as seen by an improvement in business confidence towards the year-ahead outlook for output and sustained hiring.
"Of concern, however, a further substantial increase in expenses underpinned an unprecedented upturn in prices charged for local goods and services."
The report detailed that the overall rate of inflation eased from a peak in November, but it was nonetheless the third-highest since the series started in January 1997. Since August 2020, NatWest says inflation was more pronounced in the West Midlands than at the national level.
Employment in the private sector rose in December and the report outlines that companies that reported higher payroll numbers predicted better demand conditions in the coming months.
Backlogs of work seemed to rise amongst West Midlands companies and panellists mentioned difficulties hiring suitable staff and problems sourcing raw materials.