Interest rates rise again as inflation worries soar
Interest rates have been increased for the second time in seven weeks in response to soaring inflation.
The Bank of England's Monetary Policy Committee (MPC), which sets interest rates, voted to increase the rate by 25 basis points to 0.5%. Four of the nine members of the committee had wanted a greater increase, to 0.75%.
Chancellor Rishi Sunak has also announced a council tax rebate and a discount on electricity bills, which would need to be repaid in the future, as the Government faces mounting challenges caused by the rising cost of living.
Consumer price inflation reached a 30-year high in December of 5.4%, well above the Bank's 2% target.
Rising energy prices are a major concern and the Bank is now forecasting inflation could heat up further, peaking around 7.25% in April.
The MPC said: "Beyond the near term, UK GDP growth is expected to slow to subdued rates. The main reason for that is the adverse impact of higher global energy and tradable goods prices on UK real aggregate income and spending.
"As a result, the unemployment rate is expected to rise to 5% and excess supply builds to around 1% by the end of the forecast period."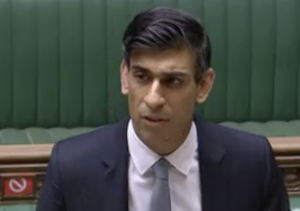 Chancellor Rishi Sunak has announced plans this morning to mitigate high domestic energy bills through a £200 household discount from October, which consumers would repay over the next five years.
He also revealed a £150 council tax rebate in April for people living in bands A-D, which includes 80% of council tax payers in England.
However energy regulator Ofgem has today increased the annual energy price cap by £693 per household from April. The increase is driven by a record rise in global gas prices over the last six months, with wholesale prices quadrupling in the last year.
Jonathan Brearley, chief executive of Ofgem, said: "The energy market has faced a huge challenge due to the unprecedented increase in global gas prices, a once in a 30-year event, and Ofgem's role as energy regulator is to ensure that, under the price cap, energy companies can only charge a fair price based on the true cost of supplying electricity and gas.
"Ofgem is working to stabilise the market and over the longer term to diversify our sources of energy which will help protect customers from similar price shocks in the future."
The Government has recently confirmed its planned National Insurance hike is to go ahead while interest rate rises will make mortgages more expensive, all adding to the cost of living crisis.
Economists are forecasting at least two more rate increases this year while the MPC is basing its projections on interest rates reaching 1.5% by the middle of next year.
UK interest rates have been below 1% since March 2009 – a historic low – and today is only the seventh interest rate change in nearly 13 years.