Simulation rail track to develop next generation of rail workers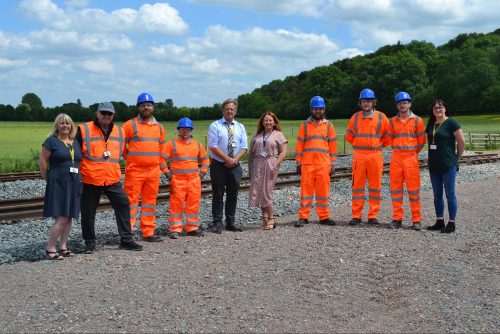 A new training facility has been created to help develop the next generation of rail industry professionals.
WCG (formally Warwickshire College Group) has partnered with RMF Group to lay a simulation rail track facility at Moreton Morrell College.
The new track will give learners the chance to enhance their track maintenance skills while working effectively as a team and preparing for a career in the rail industry.
Costing more than £78,000, the project has been funded by the Department for Education through the Skills Accelerator Development Fund.
Mark Bonham, assistant principal at WCG, has overseen the project for the college group.
He said: "The facility will enable students to gain real world practical rail skills and also enable them to gain their workplace tickets – making them immediately employable after completing their course with us.
"Learners are able to use the facility to identify a wide range of defects pertinent to the safe passage of trains on the rail infrastructure. All track components are available to encourage the learners to fully integrate with the facility in line with current standards and policies set out by Network Rail."
RMF Group provides industry standard construction and rail training, to socially disadvantaged candidates, such as offenders in custody and on release, as well as the long-term unemployed.
It specialises in providing CSCS and CPCS accredited plant qualifications to up-skill individuals and give them the platform to succeed.
Rachel Green, the business development manager at RMF Group, said: "RMF Group deliver the essential skills required to work within the rail and construction industry and give people the chance to achieve their aspirations and open up new career opportunities for their futures.
"We are working in partnership with WCG to embed expertise and knowledge of the rail industry, to ensure students have the knowledge and practical experience to work within the rail sector on completion of the training course."