Wolverhampton: 'A city on the up – and nothing's stopping our growth'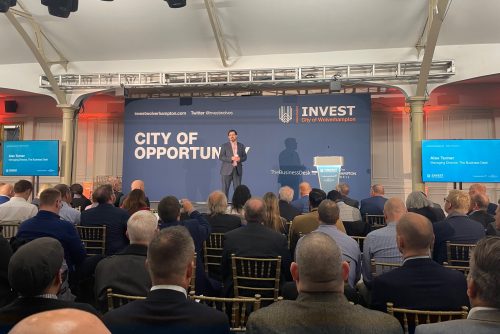 For the flagship event of its Business Week – the Business Breakfast, City of Wolverhampton Council and TheBusinessDesk.com were joined by around 250 people to celebrate the success of the city and discuss how it can create further opportunities.
Chaired by Alex Turner, managing director of TheBusinessDesk.com, attendees were introduced to Business Week by Leader of the Council, Cllr Ian Brookfield.
Cllr Brookfield revealed the council's passion to bring forward a model of levelling up that prioritises the creation of opportunities for local people and businesses.
He said: "As a city, we are still seeing unprecedented levels of private and public investment and interest which is creating opportunities for residents and businesses".
Working together with the city's three MPs, the council has submitted bold and ambitious plans which build on its vision and ambition for the city. Projects such as; The City Learning Quarter which was secured through a final £20m with support from Stuart Anderson MP, the Green Innovation Corridor, a £20m bid the council worked on with Jane Stevenson MP, and in Bilston another £20m bid supported by Pat McFadden MP for a multi-agency health and well-being centre.
To conclude, Cllr Brookfield revealed that Legal and General Modular Homes are the council's preferred developer for an exciting 400-home Canalside South development in the city centre.
He said: "L&G were rigorously selected from a hugely impressive field of contenders, and we are delighted that they will be the custodians of one of the largest city centre residential development opportunities in the Midlands. More importantly, these will be new, modular homes with net-zero energy efficiency – a huge step forward for our city in terms of both sustainability and in terms of residents' pockets at a time when the cost of living is a huge issue".
Scott Thompson, Chair of the Wolverhampton Economic Growth Board and "proud Wulfrunian" was welcomed to the stage to discuss how the city has given him and all attendees an opportunity that they can also give to local people.
Thompson said: "We as businesses have a chance to make a difference. We can be proud but we can go further by working collaboratively. There are 19,000 businesses in this city, if each business took one young person on, we would eradicate youth unemployment in our area.
"In Wolverhampton, there is the passion to go further. At the Economic Growth Board, we are working alongside the council to create opportunities for local businesses by connecting people to source locally, develop skills and build on the opportunity of the green agenda.
"Wolverhampton is now a global brand, especially thanks to the work of everyone at Wolverhampton Wanderers. We need to keep looking forward, keep going and never give up."
Echoing Thompson's thoughts on the city being recognised internationally, Stuart McLachlan, Chair of Wolverhampton Business Champions discussed how Wolverhampton is key for several large businesses with a global footprint.
McLachlan said: "Sector-leading firms such as Jaguar Land Rover, Marston's, Moog, UTC Aerospace and Wiggle all call the City of Wolverhampton home. We have a key facility here at the i54 site which is essential in establishing our manufacturing footprint.
"The Wolverhampton Business Champions are the voice of that community of businesses and we look to see how we can influence and guide the city going forward and link different sectors.
"Running a business is already challenging, regardless of current economic conditions, but there are a lot of positives we can take from belonging to this city if we work together with the common theme of ensuring the city's success".
Following the talks from three of the major players involved in the city's success, Alex Turner took to the stage to invite six key speakers to discuss levelling up and how they can tackle inequalities in the city.
Starting with Tim Johnson, Chief Executive of the City of Wolverhampton Council, he asked, "What are the year-on-year development changes within the city that were presented last year?"
Johnson said: "Regeneration and development can be a long process. When we look at what's been achieved over the last few years, there is tangible evidence of confidence in the city. We have been rethinking and recreating our city centre by adding huge investments across our public realm alongside enabling the support to bring events into the city. We've already shown we can arrange fantastic international events – as seen at the Commonwealth Games.
"We are poised for another major occupier to be added to i54 as that expands, with more news to be announced soon and our National Brownfield Insitute has just opened creating more opportunities for the city.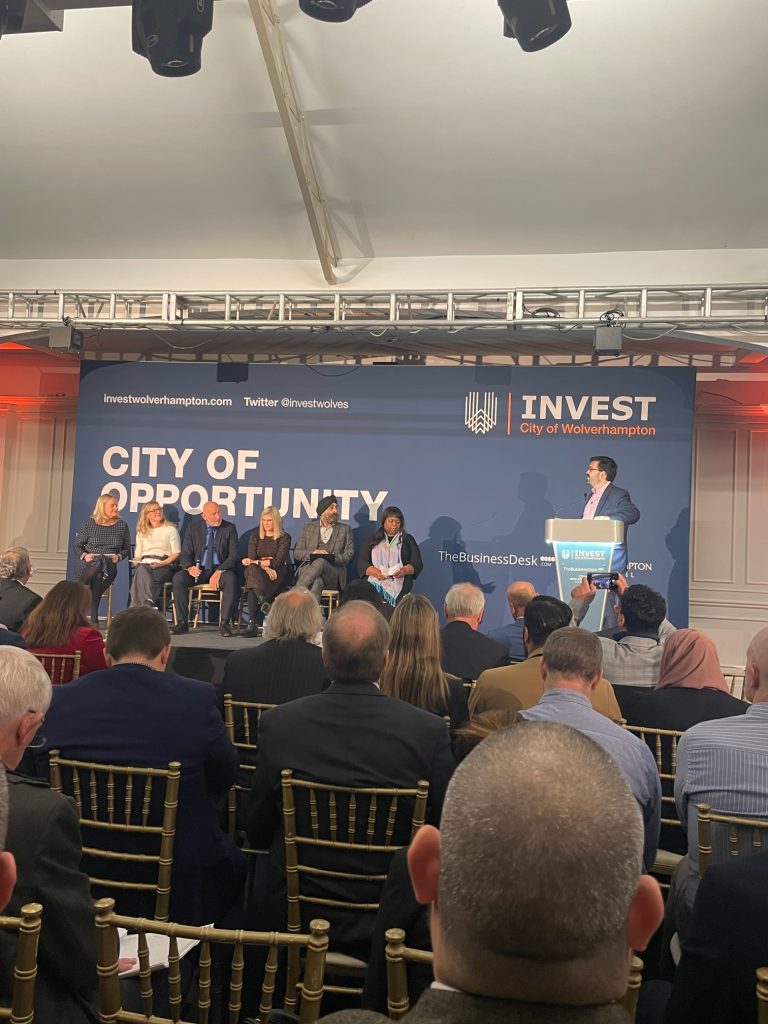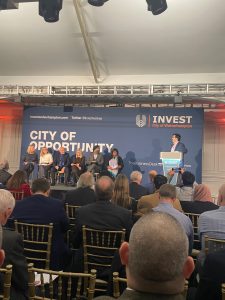 "Levelling up is really that thing that drives successful places and will ensure we have the right skills to grow our pipeline of talent. We're very focused on the job at hand and I'm very pleased with what we've already achieved, but far more excited about what is to come".
The Department for Levelling Up headquarters has recently moved to the city, with 250 staff now in Wolverhampton. Alex Turner asked Cathy Francis, the Director for Regeneration and Housing Delivery at the Department for Levelling Up, Housing and Communities what impact this has had.
Francis said: "We are all products of where we are from, which is so important for policy making. For our younger staff especially, they need experience and exposure in the city. With a new secretary of state and new Prime Minister, there is a strong theme of partnering with businesses and entrepreneurship. But we want to make sure we are not in the way of businesses.
"We are genuinely interested in things that will help business prospects and find opportunities to partner further".
The government has recently promised up to 40 low-tax Investment Zones across the UK, Francis said the primary vision of these is to drive growth.
She said: "It's important to look at opportunities for inward investment and a key element of this is working alongside the Department of Trade. Policies sometimes have unintended consequences and there we need to understand investment zones so we can exploit those opportunities and create jobs inside that red line.
"I'm interested to see how we can work with people to ensure there is true additionality for example through skills and training for young people. The plans will be moving quickly, it won't be a long-winded process – we're talking days and weeks not months. Ministers are pushing us hard to finalise plans".
Jessica Bowles, Director of Strategy for Bruntwood told the audience why it was looking at Wolverhampton as a city to invest in.
Bowles said: "Bruntwood recognises the R&D strengths of the city such as Wolverhampton Science Park and the i54, the city's status of National Centre for Sustainable Construction linked to the University's investment at Springfield Campus and the recent commercial office successes around the city's new transport Interchange.
"Here, there is a strong proposition to support growth and drive a strong city which will stimulate high-value job creation and spread wealth. What is most critical is the partners that we can work with who we have a shared vision with. The council here already have a clear sense of what they want to achieve and then we can come in and support them. We don't want any cookie-cutter places, we want to support strategies that are already engaged with.
Bowles also said in different cities there are some subsectors which will be strong, "here, there is a real focus on the green economy and construction, and building on the local university's specialisms. There is a digital component in every successful sector, we need to ensure we can equip people to work and be successful in those industries".