Black Country manufacturer completes MBO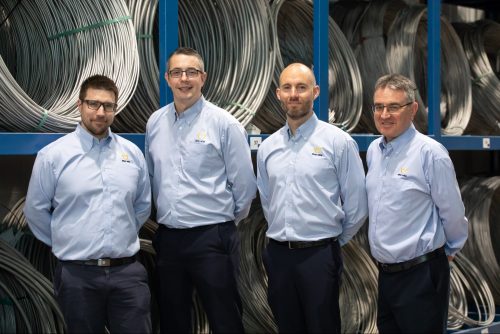 A Black Country manufacturer has completed a management buy-out, resulting in all 33 members of staff becoming shareholders in the business.
Alloy Wire International (AWI)'s senior management team, comprising of managing director Tom Mander, technical director Andrew Du Plessis and finance director Adam Shaw, has purchased the business from the current owners and set its sights on reaching £15m in annual sales.
The firm, which was founded in Old Hill in 1946, manufactures round, flat and profile wire in over 60 exotic alloys, such as Inconel, Monel, Hastelloy, Nimonic and Waspaloy.
The trio has also completed a £1m investment drive that will see new wet drawing and single hole dry drawing machines arrive during the course of the year, along with an annealing line spooler and several hundred tonnes of raw material.
Tom Mander, managing director of Alloy Wire said: "This is another major milestone in the history of AWI and gives us the platform to capitalise on recent growth and massive export opportunities.
"There's something very special about this business and this MBO ensures we maintain and cultivate this for the next 75 years.
"We will continue to focus on our USPs, which include delivering the fastest industry lead times, world class manufacturing quality and an expanding range of exotic alloys".
The new owners have more than 45 years' combined experience and will now take the business forward with previous MD Mark Venables moving to become Chairman for the next five years and R&D Director Angus Hogarth taking a consultancy role.
Alloy Wire has been supported in the MBO by Andy Wyeth, corporate relationship director at HSBC Corporate Banking's West Midlands Team, with the company's existing accountant, BSN Associates, helping structure the deal.
Legal representation for the owners and buyers was by FBC Manby Bowdler and George Green LLP respectively.