Mayor visits leading West Midlands healthcare business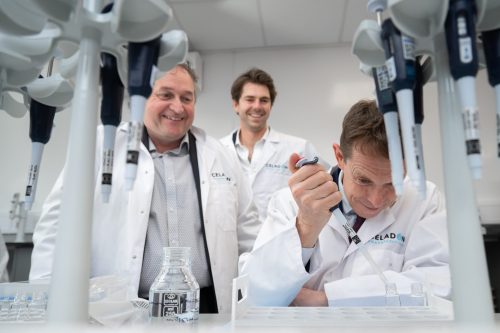 West Midlands Mayor, Andy Street, has visited Celadon Pharmaceuticals Plc, a West Midlands based pharmaceutical company focused on the research, cultivation, manufacturing and sale of breakthrough cannabis-based medicines.
During his tour around Celadon's 100,000 sq ft facility, the Mayor was shown the company's cutting-edge indoor hydroponic cultivation area, its R&D laboratory and its planned future expansion areas. At full capacity, Celadon's facility is expected to produce medicines for around 50,000 UK patients, bringing hundreds of high-skilled jobs to the region, in areas such as pharmaceutical R&D and agronomy.
Amongst those present to meet the Mayor were members of Celadon's senior team, including James Short (Chief Executive Officer); Arthur Wakeley (Managing Director); and Iqbal Gill (Chief Scientific Officer). Future expansion was also discussed with the Mayor, with Celadon stressing its desire to expand in the West Midlands region and create the UK's centre of excellence for cannabis-based medicines.
Celadon is a UK leader in breakthrough cannabis-based medicines, the only pharmaceutical cannabis company to be publicly listed on AIM (London Stock Exchange), and one of a small number of companies globally to be licenced by the Home Office and Medicines and Healthcare products Regulatory Agency ("MHRA") for the cultivation, manufacture and sale of pharmaceutical-grade cannabis medicines.
This follows the company's landmark Good Manufacturing Practice ("GMP") certification, received in January 2023, enabling the company to produce medicines for patients in the UK and end this country's reliance on imported medical cannabis, which often incurs lengthy delays and high costs.
The pharmaceutical company is also leading pioneering research into the treatment of chronic pain using cannabis based medicines – running a UK Government-approved trial , with positive initial data from patients who have received treatment.
Generating clinical trial data is at the heart of the company's approach to supporting prescribing and providing regulators with the necessary data to support the reimbursement of medical cannabis on the NHS. With eight million people in the UK currently suffering from chronic pain and UK opioid rates amongst the highest in Europe, cannabis based medicines have the potential to transform patients' quality of life.
Celadon is part of the West Midlands' £6.5bn full-service healthcare and life sciences economy. The region's 4.7m, diverse population of potential trial participants, connectivity and valuable medtech assets, including eight local hospitals and 35 regional centres of clinical research excellence, make the West Midlands an ideal location for Celadon's global headquarters. The new powers and £1.5bn funding recently secured as part of the Deeper Devolution Deal will help the region to realise its potential as home to the future of cutting-edge life science innovation.
James Short, CEO of Celadon Pharma Plc, said: "We are proud members of the West Midlands' burgeoning life science community, supported by leading institutions, such as Queen Elizabeth Hospital Birmingham and Birmingham Medical School, and underpinned by the wide-ranging Deeper Devolution Deal.
"Being located in the West Midlands means that we are never more than a few hours away from 90 per cent of the UK, making it an ideal location. We are hugely excited to be part of this regional growth story and remain immensely grateful to Andy and the West Midlands Growth Company team for being such supportive partners for our – and the West Midlands' – journey to life-science leadership."
Andy Street, Mayor of the West Midlands, said: "We know just how important the healthcare and life sciences sector is to the future prosperity of the West Midlands' economy, which is why we've made it one of the key clusters to focus on as part of our Plan for Growth. I was delighted therefore to have the opportunity to visit Celadon, which really is at the cutting edge of cannabis-based medicines and has a key role to play in our future plans.
"The UK may already have an established golden pharma triangle of London, Oxford, and Cambridge – but Celadon's investment and expansion plans show just how rapidly the West Midlands is becoming a key player in this sector. I look forward to continuing to work with them and growing in partnership."
Neil Rami, CEO of the West Midlands Growth Company, said: "Our region has long been associated with its transformative innovation capabilities and Celadon is a prime example of a West Midlands business undertaking ground breaking R&D, with the potential to transform both the UK pharma landscape and a huge number of patient lives. Celadon is yet another market leading company benefitting from the West Midlands' talent pool and supply chains and I look forward to observing the impact of their vital work over the coming years."