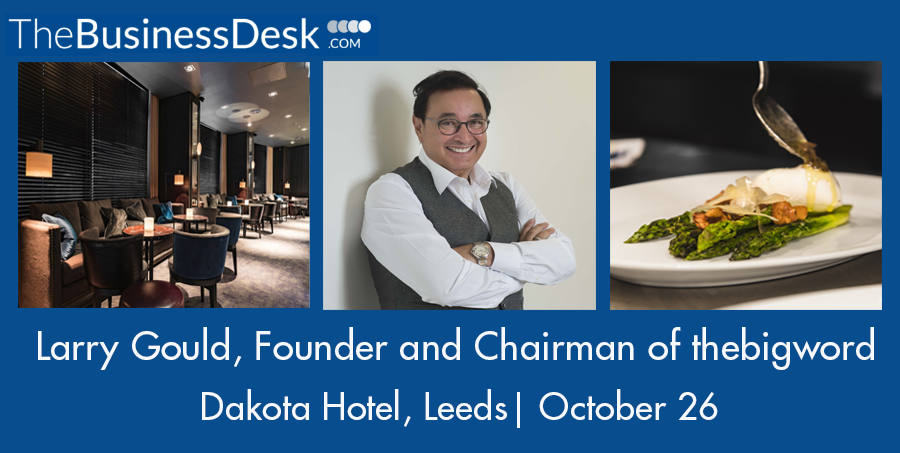 Friday
26 October
12pm – 3pm
£45 +VAT
includes a welcome drink and two-course lunch

Dakota
8 Russell Street
Leeds
LS1 5RN
Event sponsor
A special thanks to JDNetworks for sponsoring this event. Since 2003 JDNetworks have been assisting UK businesses improve efficiencies and reduce costs on their Business Telecom services.


The founder and executive chairman of a Leeds-headquartered global company which provides technology and language services is to speak at TheBusinessDesk.com's upcoming Leaders Lunch.
As a true entrepreneur, Larry Gould has grown thebigword brand from a start-up to a leading language technology and human resourcing business which is now trusted by more than 80% of the top 100 global brands and organisations. His enthusiasm for the business, and its people, is a key driving force behind the evolution of thebigword as the number one choice for language solutions.
The global business handles up to 50,000 worldwide assignments every day and employs more than 700 people worldwide as well as working with a network of over 14,000 linguists worldwide. The company has 12 offices around the globe including, New York, Beijing and Tokyo as well as operation centres in Afghanistan, Iraq, and Ukraine.
His other business interests include a technology company, GTS, based in Leeds providing technology internationally, primarily for the language industry. Larry also owns a property company, JDI properties.
Aside from his business interests, Larry splits his time between New York and Leeds, and is a published author.
At this event, to be held on October 26 at the Dakota Hotel in Leeds, Gould will talk about how he established the business, his career, his views on the Yorkshire business market at present, and why the region has been a perfect location for the firm's growth.
He will also talk about the need to always remain entrepreneurial, discuss challenges and opportunities and set out his future ambitions.
Book now and join us for what promises to be an insightful, honest and inspirational lunch.
TO BOOK YOUR PLACE