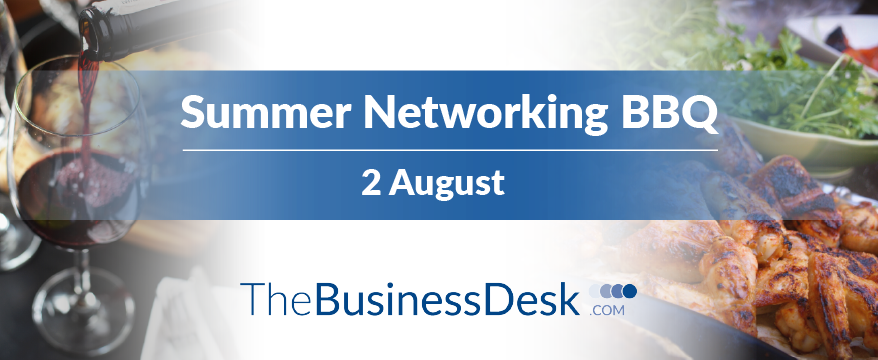 Friday
2 August

12pm – 3pm
£45.00 +VAT
A BBQ lunch is included

The Lock, Hilton Doubletree
Granary Wharf
2 Wharf Approach
Leeds
LS1 4BR

Join TheBusinessDesk.com for a relaxed summer networking afternoon with business professionals from across the Yorkshire region.
Guests will receive a welcome drink on arrival at The Lock, on the ground floor of the Hilton Doubletree in Leeds, where a BBQ lunch is also included.
The CEO of the Piece Hall in Halifax is confirmed as the speaker at this year's event.  Nicky Chance-Thompson has led the team through the transformation of the outstanding Georgian building. 
Opening on Yorkshire Day in 2017, the Piece Hall has attracted successful independent retailers and boosted footfall for the town centre. 
At the BBQ, Chance-Thompson will talk about why and how Yorkshire is doing so well in promoting itself to attract businesses and large events to the region. 
The Piece Hall has been a major player in this, hosting largescale events to provide culture and boost economic well-being. Chance-Thompson said: "I am really looking forward to the summer BBQ, it'll be great to update attendees on our progress on the Piece Hall – its transformation has been a true team effort and has been embraced by many people across the region.
"Yorkshire is a fantastic place to do business and is home to so many great cultural events that put the region on the map. I am looking forward to sharing my thoughts on why and how a strong cultural offer is so important to our success."
This year sees TheBusinessDesk.com celebrate its 12th anniversary, with a rising number of subscribers receiving the very latest business news. The event will enable subscribers to meet TheBusinessDesk.com team and network with leading professionals from across Yorkshire.
Kayley Worsley, Yorkshire editor at TheBusinessDesk.com, said: "We have enjoyed hosting our summer networking events over the last few years. They provide an informal opportunity to meet other senior professionals and to catch up with TheBusinessDesk.com team members.
"We have welcomed new members to our editorial, commercial and events team in the past 12 months and we all look forward to meeting both established and new connections at the BBQ. Hopefully the sun will shine for what has become a relaxed summer event for our subscribers and partners to enjoy!"