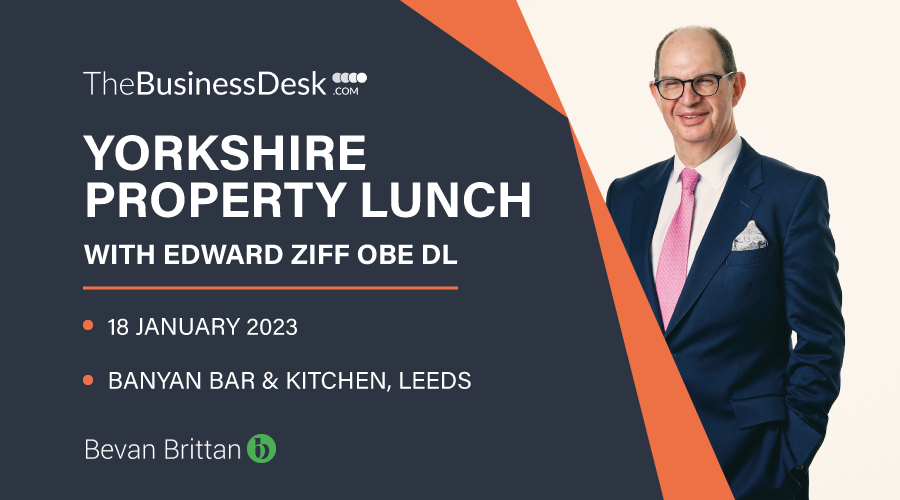 ________
Wednesday 18 January
12pm – 3pm
Banyan Bar & Kitchen, 2 City Square, Leeds
________
Ticket sales are now CLOSED
Please contact events@thebusinessdesk.com for any enquires
________
Sponsor
Town Centre Securities has been at the heart of the Leeds property scene for three generations.
Edward Ziff has served on the firm's board for nearly 40 years, and had his hand at the helm as chief executive since 2001. For the last 18 years he has been its chairman.
At January's property lunch Edward will share his insights and outlook for the property market – and perhaps some anecdotes from a life proudly supporting Leeds and its community.
Join us at Banyan in Leeds City Centre on Thursday 18 January for your opportunity to hear from Edward, and network with like-minded professionals from across Yorkshire.
Why should you join us?
Opportunity to meet contacts from across the sector
Hear about the success and future plans of a respected property leader
Enjoy a two-course lunch at Banyan
Edward Ziff is a life-long supporter of the Leeds city region and plays an active role in the community.
A passionate family man, Edward brings a strong pastoral care aspect to the business, encouraging individual leadership and an active role in the supporting of local charities.
Edward's position as son of the founder, and his lifelong experience working in the business make him uniquely qualified to lead the Company. The wider role he plays in the Leeds community in particular support leading this proudly Leeds-based business.
He is Chair and Trustee of Leeds Hospital Charity, a Member of the Governing Council of UCS (University College School) Hampstead, a Trustee of the United Hebrew Congregation, Leeds, and a Deputy Lieutenant for the County of West Yorkshire.
In 2013 he was awarded an Honorary Doctorate of Business Administration by Leeds Beckett University. Edward was awarded an OBE for services to the Leeds community and economy in the 2017 Queen's birthday honours list.