Supermarket transformation for former building society HQ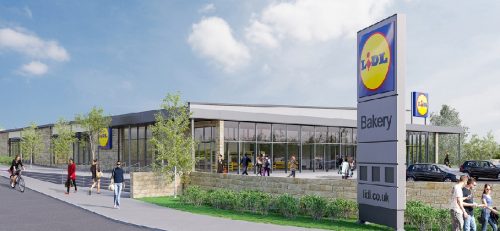 A Lidl supermarket is to be built on land where the former Bradford and Bingley Building Society headquarters once stood.
Lidl says it will begin work on the 2,470 sq m development next month. When complete, early next year, the new store will create 40 jobs.
Planning and development consultancy Lichfields secured planning permission for the store on the vacant site, off Main Street.
Sainsbury's had bought the site in 2010 and secured planning permission for a new store in 2011. But in April 2015, as demolition was going ahead, it put the site on the market.
Graham Burr, Lidl UK's regional head of property, said: "We could not be more delighted to have received planning permission, and look forward to getting started on construction in early April.
"I'd like to take this opportunity to thank the local community for their continued support, and very much look forward to opening our doors and offering our fresh, quality, great value products in the not too distant future."
Adam Jackson, senior planner at Lichfields in Leeds, said: "We are delighted to hear that construction will get underway in the next few weeks following the successful securing of planning permission.
"The site has stood vacant for a number of years and the new store will help boost the overall attractiveness of the town centre."
The development will lead to the upgrade of the Main Street / Myrtle Place junction and create a new pedestrian link into the site from Main Street.