Deal values near £17bn in busy start to year

Deal activity in the Yorkshire and Humber region has risen by 3% so far in the first half of 2018, with 279 deals recorded this year – totalling £16.9bn in value – compared to 272 transactions announced for the same period in 2017.
The region is one of just two UK regions to see activity rise year on year, according to Experian's H1 MarketIQ analysis released this week.
Meanwhile, deal value across Yorkshire spiked sharply, from £2.9bn in 2017 to a very healthy £16.9bn confirmed this year, an increase of 487%. Yorkshire and Humber-based companies were involved in 7.9% of all UK deals, and contributed 8.5% of their total value over the year.
RSM has been the most active financial adviser in the region during 2018, having been cited in 11 deals, just ahead of PWC having participated in nine transactions.
Steve Hubbard, corporate finance partner at RSM, said: "Despite any perceived uncertainty, our deal activity has remained strong. The market remains buoyant, with international investors buying up UK assets, active UK corporates and an increase in available funding through active private equity houses.
"During the period we have glossed a number of high profile transactions including the sale of Looking4.com to Manchester Airport Group and the sale of PVH to Brickability."
Morgan Stanley was top of the value rankings having advised on three transactions for a total of £10.2bn; the largest of which was a role on the buy-side of Sainsbury's combination with Asda Stores, the Leeds-based UK retail subsidiary of Walmart Stores.
This £7.3bn transaction – the largest ever in the UK food retail space – also saw Gibson Dunn & Crutcher act on behalf of Walmart, which was an influential factor in them topping the legal value rankings having advised on two deals worth just under £10.7bn.
The highest legal adviser by volume was Clarion, which was involved in 15 transactions for an aggregate consideration of £31m.
Jonathan Simms, partner in Clarion's corporate team, said: "Having grown the team to one of the largest in the region with 12 dedicated corporate lawyers, we now have the capacity to swiftly drive through an impressive number of deals. Our hard-earned reputation in the marketplace for being proactive and turning round deals quickly has attracted a healthy pipeline which we've been able to bring to fruition by working with the many talented corporate financiers, private equity houses and law firms that Leeds has to offer.
"We have a really strong professional community here in Yorkshire and I believe that it is only getting stronger as we work together more effectively to move transactions through the system, taking advantage of the current healthy appetite for deals."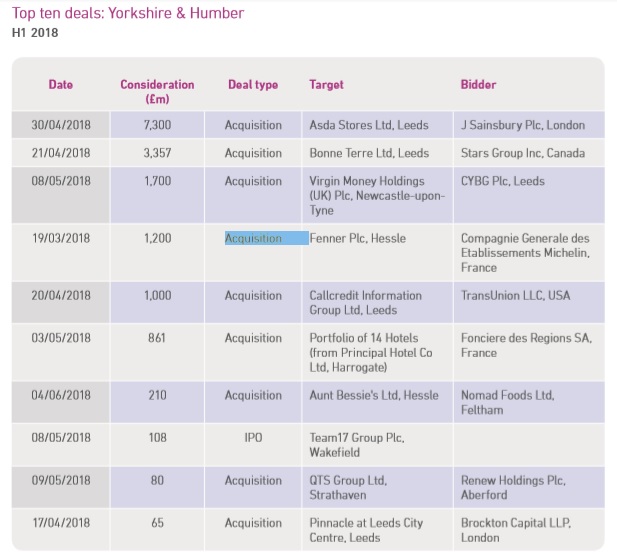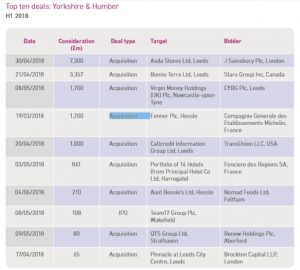 Experian said: "Manufacturing was the main industry in the region with 98 deals, representing just over 35% of all transactions, closely followed by wholesale and retail with 92 deals (a 33% share). The wholesale and retail industry was well ahead in the value rankings, with the sector being responsible for just under £12.4bn worth of transactions within the region."
The number of small deals dropped from 50 recorded in 2017, to 42 transactions announced so far this year, a 16% decrease. This has been reflected in the value of small Yorkshire and Humber transactions recorded at £119m, a 10% fall from the figure of £132m announced last year.
The region saw 37 mid-market deals announced during 2018, in comparison to the 20 recorded for the same period last year (85% increase). The value of those transactions reached almost £1.1bn (up 130% from £479m in 2017).
There were three large transactions valued at £1.2bn announced within Yorkshire and Humber in the first six months of 2018. This was down from the corresponding six months in 2017, where eight deals were announced for a total of £2.3bn.
Five 'mega transactions' were announced within the region, with the value of those deals just under £14.6bn.