Two Yorkshire businesses win at the EY Entrepreneur Of The Year 2019 North Awards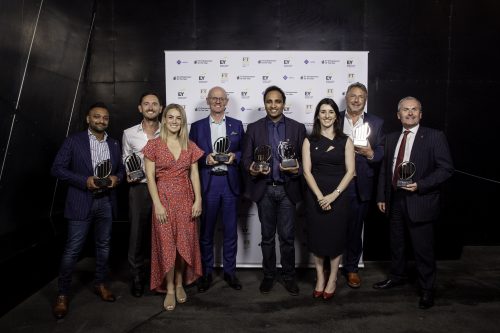 X

Register for free to receive latest news stories direct to your inbox
Register
David Brennan, the chief executive of Nexus Vehicle Management, based in Leeds and Stuart Paver, managing director of York-based Pavers, were both winners at EY's North of England Entrepreneur Of The Year Awards, held in Manchester last Thursday.
David won the Disruptor category and was praised by the judges for his leadership and determination, having navigated the business through challenging times and creating significant value since his appointment.
His business Nexus is a technology driven business, specialising in supplying temporary vehicles to businesses and has grown to employ more than 145 people.
Stuart, who won the Sustained Excellence category, has run shoe retailer Pavers for more than 30 years, today employing more than 1,700 people in the UK alone. The business operates over 170 retail stores across the Pavers and Jones Bootmaker brands in the UK, has 40 retail stores in India and Sri Lanka under the Pavers England brand and has harnessed mobile phone and automation technology to increase sales and enhance the customer experience.
The judges were impressed at how Stuart demonstrated he had "not been afraid to take risks" believing that giving enough time is essential to lead difficult projects to success.
Imran Hakim, the chief executive of Darwen-based opticians business Hakim Group was named EY Entrepreneur Of The Year 2019 North overall winner.
Hakim, who also took home the Scale-up award, was described by the judges as having an "unstoppable work ethic", having built a business that is successfully investing in the high street, flourishing in towns and cities at a time when other businesses are withdrawing.
Founded in 2006, the business represents a rapidly growing portfolio of over 100 independent optician practices across the UK. Hakim has developed a hybrid approach of maintaining the local brand while providing additional resources to independent opticians through a head office engine room.
Victoria Price, partner and EY Entrepreneur Of The Year leader in the North, said: "Imran is a very worthy winner – he has developed and executed a successful buy and build strategy with a proven track record of generating growth post acquisition. Imran has built a support team that has been with the business since the start and coupled with his visionary leadership it is not difficult to see why his business has thrived."
Held at the Imperial War Museum North the awards dinner honoured six business leaders across six categories (profiles below).
Victoria Price added: "I could not be more proud to lead this programme for EY in the North – it supports the incredible entrepreneurial community we have here and helps to put the spotlight on some truly unique businesses and inspiring entrepreneurial leaders all of which create jobs and contribute to the continued growth of the North's economy."
Each winner was judged and selected from 24 Northern businesses across the North West, Yorkshire and the North East. All of the North of England winners will go on to represent the region at the UK finals in November 2019, where the EY Entrepreneur Of The Year UK will be crowned. The UK country winner will then attend the 'EY World Entrepreneur Of The Year' in summer 2020, which gathers the world's most inspiring entrepreneurs from more than 60 countries.
Last year's North winners, Mohsin and Zuber Issa of Blackburn-based forecourt retail operator EG Group, went on to become overall winners at the national Entrepreneur Of The Year awards and represented the UK at the global awards earlier in June.
Some of Britain's best-known business figures are former EY Entrepreneur Of The Year winners, including: Stelios Haji-Ioannou, who founded the low cost airline easyJet; Dragons' Den investor Peter Jones, who started-up Phones International Group; and Richard Reed, one of the founding partners of Innocent Drinks.
Previous winners in the North include Jennifer Atkinson of ITC Luxury Group, Fred Done of Betfred, James Lambert of R&R Icecream and Matthew Riley of Daisy Group plc.
Other North of England winners:
Social Impact: Steven Jackson OBE DL, Recycling Lives
Preston-based Recycling Lives is a unique organisation combining nationwide recycling and waste management businesses, a social enterprise delivering food redistribution and offender rehabilitation programmes and a charity managing a homeless residential programme.
Transformational Leader: Jonathan Lill, BBF
A Blackburn-based manufacturer of own brand cake and chilled desserts.
Rising Star: Fokhrul Islam, Northern Gas and Power
A Gateshead-based business-to-business energy consultancy offering energy contract brokering, consultancy and energy monitoring technology in the UK, US, France, Malta and Singapore.