£60m investment in new intercity trains
Hull Trains has celebrated the arrival of its first brand-new Hitachi Rail Paragon trains.
It has invested £60m into five state-of-the-art intercity trains – known as Class 802s– which are intended to transform rail travel from Hull to London.
The fleet – which is built using Japanese bullet train technology – offers a sleek modern design, faster acceleration and longer carriages, offering more space and seats.
Once fully operational, people will benefit from 5,500 extra seats a week, greater reliability and a quieter and smoother ride.
The fleet of new trains is being rolled into passenger service at intervals, with the full Paragon fleet expected to be in passenger service by early 2020.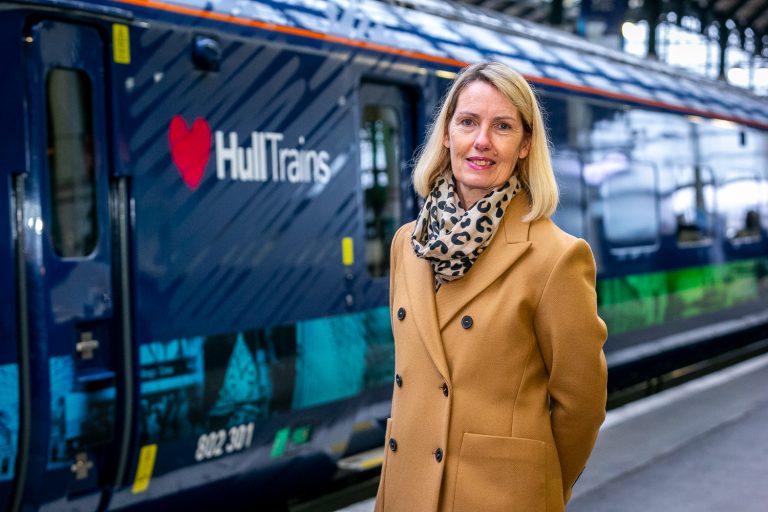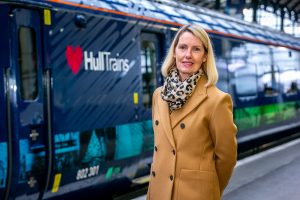 Louise Cheeseman, managing director, said she was confident the Paragon fleet would revolutionise train travel between Hull and London.
"We have made a significant investment in these hi-tech trains which will completely overhaul the current service as our customers know it," she explained.
"Not only will these trains give a smoother ride, they will be a lot more reliable than our existing trains, they will include complimentary Wi-Fi, plug and USB sockets throughout, a brand new at-seat trolley service and an even greater choice and improved quality of hot and cold food.
"We are increasing capacity on our trains by 22% which means more people are able to travel too."
Hull Trains currently operates 92 services between Hull and London every week. The new trains can switch seamlessly between electric and diesel power.
More than two thirds of the journey between Hull and the capital will be operated using electric power, which is better for the environment.
And even under diesel power the modern engines reduce harmful emissions (PM10 and NOx) by up to 90% compared to the existing trains.
Andy Barr, Group CEO, Hitachi Rail said: "These new trains designed using advanced bullet train technology have proven extremely popular, becoming the intercity train of choice on Britain's rail network.
"The trains' many benefits include no more diesel emissions when running on electric power, fast and free Wi-Fi, and greater comfort for passengers.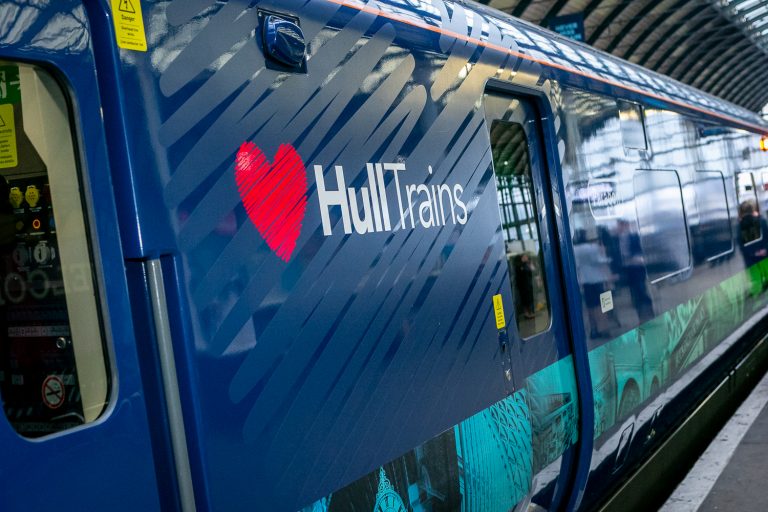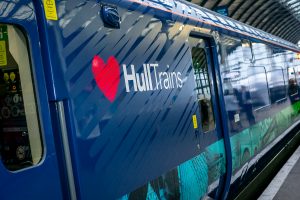 "With over 25,000 smart sensors on board each train allowing real-time monitoring, our maintenance team can ensure a reliable and efficient service for people travelling to and from Hull and beyond."
Steve Montgomery, First Rail managing director, said: "This investment in five brand new trains demonstrates FirstGroup's commitment to Hull and our Hull Trains service. We're proud to have supported the local community and East Yorkshire's economy by investing in Hull Trains and growing the service over the years."
Kevin Tribley, CEO at Angel Trains, said: "By investing in and developing new trains that reduce the environmental impact of rail travel we are even closer to creating a rail system that modern Britain deserves.
"We are incredibly proud of our team and would like to thank those at Hitachi and Hull Trains for their hard work in making this vision a reality."
Henri Murison, director of the Northern Powerhouse Partnership said: "New trains are now being rolled out across the network in the Northern Powerhouse, these joining a number of new Trans Pennine and LNER Azuma trains being built at the Newton Aycliffe factory and a significant number of new and reconditioned trains on Northern.
"When better trains replace the old, clapped-out ones, more people use them, so any incoming Government should seriously consider introducing more, in part to make up for the Pacers being with us for longer than first promised.
"With four of the five national parties standing in the North having committed to Northern Powerhouse Rail in their manifestos, we must now ensure the scale of ambition for Northern Powerhouse Rail is pushed as far as it can be.
"Whoever wins the election, we must move out of the planning phase with a delivery model in place and up and running to give greater confidence to commuters and businesses on progress.
"Built alongside the HS2 project, the North deserves and must get a new railway to sit alongside our existing tracks, unlocking more capacity for commuter and freight services."