Chancellor's investment spree seeks to innoculate economy from coronavirus impact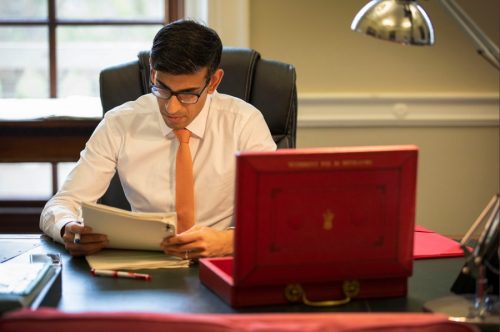 Chancellor Rishi Sunak promised to "unleash the power of business" in a Budget that was dominated by the Government's response to coronavirus.
His support for small and struggling businesses came alongside a commitment to "invest in ideas" with significant support for R&D and green growth.
A West Yorkshire devolution deal will see the region get an elected mayor in May 2021, and it will join the existing metro-mayor areas – including Liverpool, Greater Manchester, Sheffield and the West Midlands – in sharing a £4.2bn pot in "a London-style funding settlement".
Exactly 500 days since former Chancellor Philip Hammond declared austerity was "finally coming to an end" in the last Budget, the new occupant of Number 11 Rishi Sunak opened the chequebook wide.
There were multi-billion-pound spending commitments to support the response to coronavirus and he also set out his plans to begin the fulfilment of the Conservative Party's election manifesto in a wide-ranging and upbeat 63-minute speech.
Sajid Javid's untimely departure last month and the global health and economic impact of Covid-19 disrupted preparations for the Budget.
But Sunak used this first post-Brexit financial statement to set out the Government's "plan for prosperity tomorrow".
The Richmond MP, confidently delivering his first Budget just weeks after becoming Chancellor, started by immediately addressing the impact of coronavirus.
He warned that up to one-fifth of the working-age population may need to be off work at any one time, with impacts on both productivity and demand.
Sunak warned there will be "a significant impact on the UK economy, but it will be temporary".
He added: "For a period, it is going to be tough."
He set out a three-point plan which involved funding the NHS's response "whatever the cost", changes in statutory sick pay, and a commitment to support struggling businesses.
The Chancellor described his series of measures as "one of the most comprehensive economic responses by any Government around the world."
Businesses with fewer than 250 staff will be able to get refunds from sick pay paid out to employees for up to 14 days, and a coronavirus business interruption loan scheme which will offer loans of up to £1.2m.
He also promised a £2.1bn investment in small businesses by providing a £3,000 cash grant to the 700,000 businesses eligible for small business rates relief.
There was a wide-ranging change in abolishing business rates this year for small retail, leisure and hospitality businesses – costing £1bn by providing a tax cut of up to £25,000 for each company.
Sunak used well-trailled plans to change entrepreneurs' tax relief – he announced plans to reduce the lifetime limit from £10m to £1m – to fund three business-friendly measures.
There was an increase in the employment allowance by one-third to £4,000, an extension of the R&D expenditure credit, and an increase in the structures and buildings allowance.
As part of the Government's "levelling-up" agenda, he also confirmed plans to open a new economic campus in the North with 750 staff from treasury, trade and other government departments, and set the ambition of moving 22,000 civil servants out of London.
Becky Maguire, partner at Garbutt + Elliott commented: "This was certainly a spending Budget – lots of new funding for things as varied as a Nature for Climate Fund and filling in potholes. Coronavirus was clearly a focus at the start with a package of £30bn of measures to help individuals and businesses. And the NHS was a winner – £6bn of new funding over this Parliament alongside some welcome relief for consultants and GPs with a significant increase to the pensions taper threshold. For entrepreneurs, there was some good news on R&D funding and business rates but business owners will be disappointed at the very significant cut in the Entrepreneurs Relief Lifetime Allowance to £1m from today. From a devolution perspective, it was exciting to hear the news that West Yorkshire will be getting a metro mayor from May 2021. The Chancellor's phrase "Get it done" was a repeating theme throughout but with detail on spending in some areas pushed back to the Spending Review later in the year, it remains to be seen how the numbers will balance up."