Coronavirus update – the latest news from Yorkshire businesses
Union Industries, a Yorkshire-based manufacturer of high-speed industrial doors, has helped Leeds City Council services by supplying the authority with PVC flexible barriers for some of its vehicle fleet.
The clear PVC barriers are being used in some vehicles such as refuse collection lorries as an additional precaution to enable operatives to social distance in the cab while undertaking essential municipal tasks such as refuse and recycling waste collections.
To date, from its factory in Hunslet, Union Industries has provided Leeds City Council with 65 barriers to fit Mercedes Benz waste trucks and 17 screens for Mitsubishi pick-up trucks.
In addition, the company has manufactured 11 barriers for Movano Passenger vans with a two-way divider system.
The barriers are being provided in response to the Government's social distancing measures, which came into force at the start of the UK's lockdown.
Though key workers are still going about their daily duties, social distancing must be adhered to wherever possible, making it more challenging for council personnel such as refuse collectors, to work near each other.
Andrew Lane, managing director of Union Industries, said: "We understand how difficult it must be for some key workers to ensure they're adhering to new social distancing measures when going about their daily duties.
"When Leeds City Council approached us to help with their newfound challenges, we were delighted to develop and produce a solution. I would like to take this opportunity to thank all key workers for their service."
:::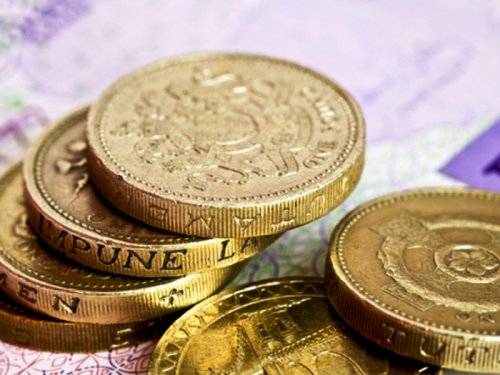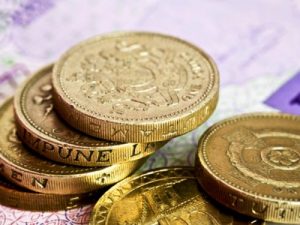 East Riding of Yorkshire Council has relaunched its Love Your High Street fund, to help more businesses across the area.
It has been expanded to cover the whole of the East Riding area but is still predominantly aimed at the 'high street' – including villages and rural businesses which offer a service to their local community.
The fund will offer 100% grants of up to £10,000. It might be used to support a new business venture, innovative projects that help create the high street as a destination, the diversification of a high street/rural business – for example, an activity to help the business retain a high street presence, such as creating an online offer, or a new delivery service.
It will also support projects that will help prepare a business to recover after the current crisis.
Applications are welcome from businesses, property owners, town and parish councils, event organisers; or business groups who are collaborating to make a difference on their high street.
Councillor Richard Burton, leader of the council, said: "I am absolutely delighted that we have been able to relaunch and greatly expand the range of the Love Your High Street Fund. This could prove a real lifeline for many of our local businesses.
"Now that the fund offers grants to fund 100% of a scheme, rather than the previous 50% funding, this will save businesses from having to find vital cash reserves to match-fund new projects.
"Increasing the grant limit creates more opportunities for larger projects to come forward too.
"Now that we have also widened the scheme beyond the 13 principal towns originally included, this will offer those businesses which perform a vital community role for many vulnerable or isolated residents a chance to apply for funding.
"It will also help boost economic activity amongst the self employed and SME business community, as many projects will use local traders and suppliers."
:::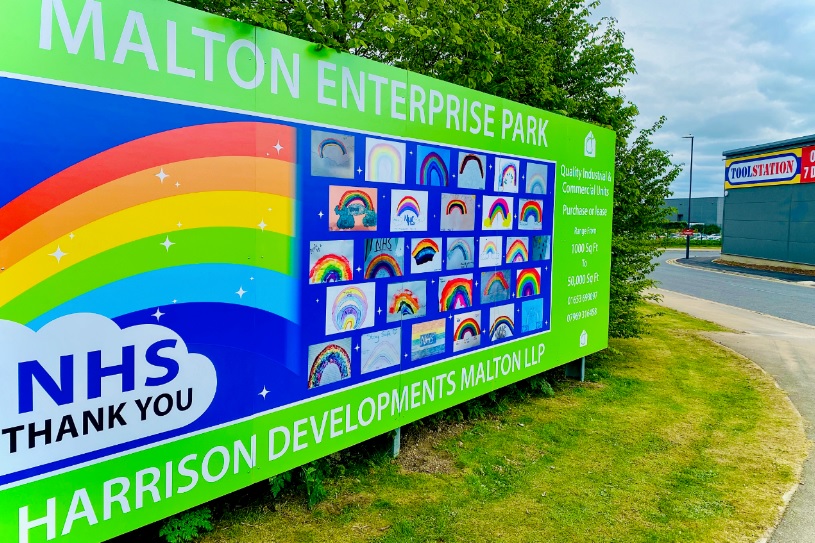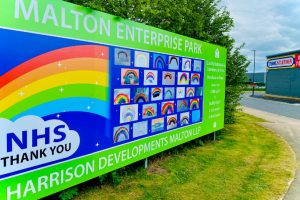 Malton Enterprise Park has unveiled a brand-new welcoming entrance sign – designed by children in honour of the NHS.
Harrison Developments, the owners and developers of Malton Enterprise Park, launched a competition for schoolchildren in the Malton area to design a new sign to pay tribute to the amazing work done by the NHS to combat Covid-19.
Sue Harrison explained: "We wanted to say a public thank you to the NHS for everything it has done in these incredibly challenging times – and we wanted to involve the community.
"So we hit upon the idea of a competition for local schoolchildren. When the entries came in, we thought they were all winners, so our colourful new sign celebrates a range of the entries.
"We are delighted with the result. Our park is on the main road from York into Malton, so it will be highly visible in the weeks and months to come, as the lockdown eases.
Work, subject to the thorough application of social distancing, is now restarting on the park, which has recently welcomed new occupiers.
The occupiers have taken a combined total of 27,500 sq ft at the employment park.
They include Snug Campers, Neu-Era and J S Graphixx, while two well-established Malton businesses, Direct Imaging and Parnabys, are now moving in.
Sean Harrison, of Harrison Developments, said: "These new deals are a vindication of the substantial investment we have made in our park.
"More than 120 new and sustainable jobs have been created on site, which makes us very proud. The wide variety of successful businesses here is also an indication of the strength of the economy in Ryedale.
"But the new deals are only part of the story. We have a further 119,000 sq ft of quality employment land at the park, available on a design and build basis. We will build speculatively and can either sell or lease the new units.
"These units will be single or two-storey commercial buildings which will be designed with maximum flexibility to allow a range of uses, including light industrial research, offices, general industrial and retail, trade and warehousing. Sizes range from 1,000 sq ft to100,000 sq ft."
Other occupiers already on site include Toolstation, Screwfix, Aquapoint, Dog Tooth, Bella di Notte and Dales The Chef's Choice.