Listed property investor criticises major retailers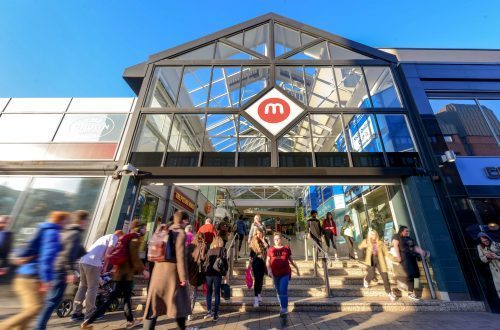 A pair of big high street names came in for sharp criticism at a virtual business breakfast this week.
Edward Ziff, chairman and chief executive of property investor and car parking operator, Town Centre Securities (TCS), hit out at some of the larger retail operators across the UK for ignoring efforts by his firm to discuss rent payments during the Coronavirus emergency.
He spoke at the UK Israel Business (North East) Virtual Breakfast webinar, where he was part of a three-strong panel. Also on the panel were Martin Port, founder and CEO of Leeds-based technology company BigChange and Hugo Bieber,  chief executive at UK Israel Business.
The event's main sponsors were TCS and BigChange and the webinar was introduced by Colin Glass, chairman of UK Israel Business (North East) and director at Murray Harcourt.
The webinar was chaired by Jonny Ross, founder of Fleek Marketing.
Ziff said Leeds-based TCS has been left "marooned" by the virus pandemic, and is facing difficulties in collecting rent from its commercial tenants.
He noted some of these businesses were proving more co-operative than others.
He said: "We have tenants big and small, and the smaller companies are actually paying their rent from the Government grants they're receiving as quickly as they can, because they want to get on with things.
"But we have bigger companies who won't even answer our calls.
"They just have no regard for legal documentation which they willingly entered into. It's hugely challenging."
The wider panel discussion centred on how businesses are trying to survive during the ongoing emergency. Ziff, Bieber and Port all noted how Israel had moved swiftly and decisively to fend off the spread of the virus – in stark contrast to the UK.
They agreed Britain's trade with Israel is already hugely significant, with exciting potential for even further growth post-crisis.
Bieber said: "One sector which is particularly booming in Israel is health tech. It's really coming into its own right now and we're suddenly seeing a huge number of companies in the health tech space which can solve problems relevant to the UK.
Port said businesses in Israel have shown an ability to build success from nothing, while Ziff partly attributed the "can do" business attitude in Israel to its population being influenced by years of military service.
Ziff added he believed retail in Leeds would recover from Coronavirus, commenting: "Shopping is an essential part of the social fabric of this country and it will come back. The high street will be a busy place again."
However, he forecast most people currently having to work from home would not see a return to normality until the autumn.
"At the moment there's no sign that this is a credit crisis," he said. "It could become one, but finance still seems to be readily available and the pricing of debt doesn't seem to have changed materially."
Port said he was especially worried about the impact of the virus on poverty rates, warning of an unemployment rate as high as 20%.
Bieber said companies' executive teams need to be split between fire fighting the current crisis and working out what the longer term implications will be.
"In future, 'just-in-time' delivery won't be as effective as it was before," he said. "The trading relationship with China is going to change. We'll see a real shift in geopolitics and therefore a shift in supply chains."
Bieber explained how his own events-based organisation has had to re-evaluate its entire business model. "I don't see us putting on any physical events in the UK or in Israel this calendar year," he said.
"When we come out of this it will be an entirely different world."