Thank you Mr Sunak, but what took you so long?
The Chancellor has continued his battle back from the economic precipice brought about by Covid-19 with further initiatives to support businesses.
In his first Summer Economic Update, Rishi Sunak has shown support for some key sectors including the recently reopened hospitality industry.
One of the most talked about points of the wider programme,  are the Government's new Eat Out to Help Out scheme which will give a £10-per-head discount for every diner eating out between Monday-Wednesday in August, and the VAT cut for the tourism and hospitality industry.
The schemes have been welcomed by many within the sector – although criticised by some on social media – who highlighted that takings over the first Saturday of the restrictions lifting were 30-40% that of a normal Saturday and thus the "next six month will be much tougher than what they have been through already."
Simon Fogal, Leeds Indie Food, although welcoming today's announcement pointed out that it has been a long time coming.
He said: "This latest announcement was very much needed support, but how late has this been delivered by Government? The VAT cut has been called for over many months now but finally, it is announced and it will help many hospitality businesses survive."
Adding that the Eat Out to Help Out initaitive in an " interesting idea" that Leeds Indie Food will be supporting businesses register for this scheme through the Government portal which will launch on Monday.
Dave Olejnik, Laynes and Sarto owner, echoed Fogal's point on VAT, stating, "5% VAT cut is great. A call for lowering VAT in hospitality has been on the cards for many months and even before COVID-19, so this is very welcomed. Maybe a little bit later than we all wanted.
Olejnik added that hopefully through the Eat Out to Help Out scheme it would hopefully support his restaurant to have a "steady flow of bookings throughout the week", by encouraging "the public to eat out Monday-Wednesday, and not just weekends."
One of the many champions of a VAT cut was Yorkshire and North Lincolnshire All Party Parliamentary Group. The co-chairs of the group Huddersfield MP, Barry Sheerman and Thirsk and Malton MP, Kevin Hollinrake, said:
"This cut in VAT will provide a great boost to the tourism sector in Yorkshire which has taken such a hammering during the lockdown. Some 224,000 people work in the sector in the region and as a result of this VAT cut many more of these will now find their jobs secured than otherwise would have been the case.
"The message needs to go out that not only is Yorkshire now fully open to visitors, but in good Yorkshire tradition, you will now get more for your brass".
The measures were also welcomed by Yorkshire tourism agency, Welcome to Yorkshire. Its chief executive James Mason said: "The Chancellor's announcement to cut VAT from 20% to 5% will be a huge welcome boost for thousands of organisations within Yorkshire's tourism industry. It's been a tough year for many businesses and hopefully this will be an incentive to encourage spending across the sector with people being able to take advantage of reduced prices on food, drink, accommodation and admission to the county's amazing attractions.
"The tourism industry is worth £9bn to the Yorkshire economy and employs almost 225,000 people, and hopefully increased consumer spending will help secure the future jobs of many working within tourism businesses. We hope that the next few weeks and months will see visitors safely enjoying all the wonderful things Yorkshire has to offer, from its spectacular coastline, breathtaking countryside and vibrant cities, as well as world-class food and drink, spectacular heritage locations and outstanding attractions. A significant rise in visits to Welcome to Yorkshire's website yorkshire.com in recent months reflects a real thirst for daytrips and staycations in the county post-COVID-19."
However not everyone welcomed the news with pubs, which focus on drinks alone, feeling let down by the VAT cut, as it doesn't include alcoholic drinks. In fact one North Yorkshire brewery, Brass Castle Brewery took to twitter to share their disappointment: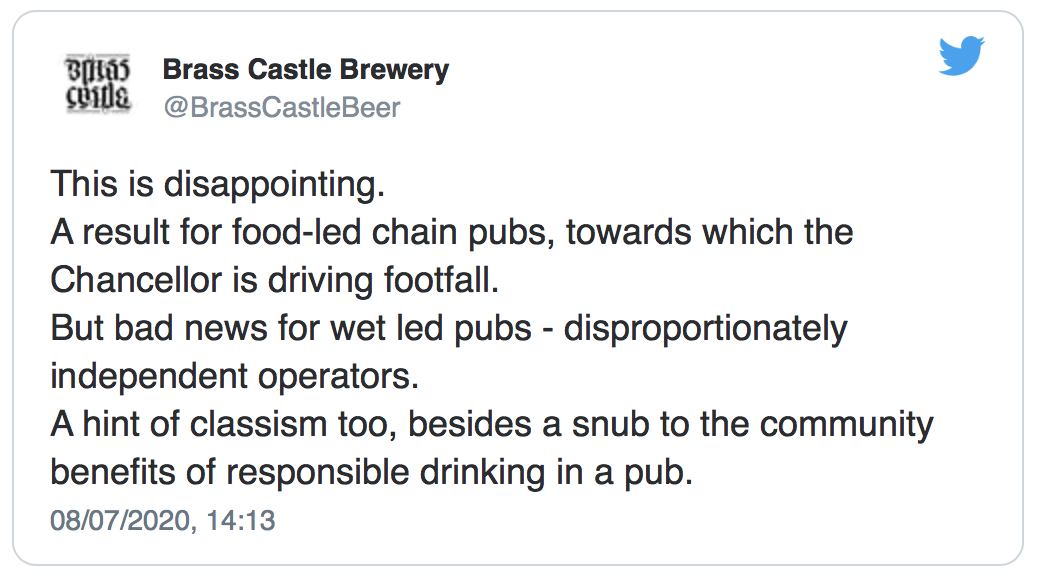 This isn't the first time the Chancellor's support systems have left brewers feeling ignored, with Ian Fozard, from Harrogate brewery Rooster telling TheBusinessDesk.com at the start of lockdown how the support measures announced for pubs, the retail and leisure industry does nothing to help the supply chain.