Yorkshire to share in huge national investment in flood defences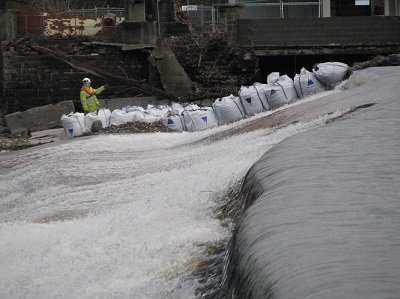 Businesses and homes should be better protected and more resilient in future after the Government revealed its long-term plan to tackle the risks of flooding and coastal erosion.
The national measures set out include investment of £5.2bn to create around 2,000 new flood and coastal defences to defend 336,000 properties in England by 2027, alongside support to help households and businesses get back on their feet more quickly after flooding.
As part of this, a £170m funding pot will be confirmed for 22 new flood defence projects to start in 2020 and 2021 – including the following in Yorkshire and the Humber:
Up to £22.3m for Leeds. This will protect more than 370 businesses and 3,300 jobs, and enable the development of land for the creation of more homes and jobs. The Government will also provide £1,320,000 for the Leeds Natural Flood Management Scheme. There will be better protection for transport infrastructure.
£12m for Hebden Bridge. The funding will provide improved protection for an area that was badly affected by last winter's flooding, including nearly 1,000 businesses, while maintaining the importance of access to the river in the picturesque town.
£16m for Sheffield, Upper Don Valley & the Upper Don Catchment Natural Flood Management Programme. The scheme will provide a comprehensive flood defence within an area at high risk of flooding on the River Loxley. Residents and businesses in parts of Hillsborough, Malin Bridge and Penistone Road were flooded in 2007. These new defences, will make the city safer and help to protect businesses in the Hillsborough area.
£960,000 for peatland restoration across Yorkshire and Lancashire. Restoration of peatland in the Pennines to reduce flood risk in small towns and villages where it might not be viable to deliver traditional flood schemes.
The plan also sets out proposed changes to the joint Government and insurance industry Flood Re scheme.
This will allow claims to include an additional amount so flood resilience measures are included in repairs, and allow households that have property flood resilience measures in place to benefit from lower premiums.
Prime Minister Boris Johnson said: "Last winter I saw for myself the misery and upheaval that flooding can bring to lives and livelihoods and I said we would do more to help people.
"This long-term plan will help push back the flood waters and protect hundreds of thousands of homes, businesses and livelihoods.
"Our record investment will also stimulate economic growth across the UK as we build back better."
Environment Secretary George Eustice said: "The devastating impacts of last winter's flooding were an important reminder of the need to continue to invest and accelerate action to reduce the impact of flooding on our communities.
"Our record investment and ambitious policies will better protect homes, schools, hospitals and businesses, but we also recognise that we cannot prevent flooding entirely, which is why we will ensure that communities at high risk are more resilient."
Emma Howard Boyd, chairman of the Environment Agency, said: "For every £1 spent improving protection from flooding and coastal erosion, we avoid around £5 of property damages.
"Many communities are all too familiar with flooding, and now the risk is increasing for others too. The Environment Agency is champing at the bit to deliver on the Government's investment with better, and greener, flood schemes."