People: Clarion; Shipley Towns Fund board; and more
Law firm Clarion is continuing to nurture young legal talent, with another three trainees retained following their qualification.
From 1 September, Bronwyn Wheeler qualified into the family team and Max Wayman qualified into the employment team.
Joseph Young will qualify into the business restructuring and insolvency team with effect from 1st December 2020.
Wheeler completed a Law LLB from the University of York before going on to BPP Law School, Leeds, for her Legal Practice Course.
Wayman has an LLB Law from University of Hull and studied International and European Law at University of Utrecht, Netherlands, before undertaking a Legal Practice Course and MSc in Law, Business and Management at the University of Law, Leeds, and then working for Clarion as a paralegal for two years.
Young completed a Law LLB at Edge Hill University, then undertook a Legal Practice LLM at BPP University.
In addition to current second year trainees, Clarion welcomes another six trainees to the initiative with Caitlin Halliday (banking); Lauren Hall (business restructuring and insolvency); Rosie Day (corporate); Georgina Lill (Intellectual Property); Jordan Yelland-Hey (real estate litigation and construction); and Isabelle Hammond (Commercial Dispute Resolution), all embarking on their first year of training.
Martin Grange, partner, who is heading the trainee programme at Clarion, said: "Our focus on bringing on board new talent and supporting young lawyers as they develop their careers with us, remains a key tenet of the Clarion vision.
"We are proud to once again be offering our trainees permanent NQ positions with us and know they will make a valuable contribution to the firm and to our clients.
"In the recent difficult times, the strength of our culture has been a huge bonus, helping us to work together and support one another, despite not being in the office."
:::
Head of operations at CarnaudMetalbox Engineering, Adam Clerkin, has been appointed to chair a new board which will oversee the investment of up to £25m in Shipley's economic development.
Clerkin is part of CarnaudMetalbox Engineering's senior management team having worked at the Shipley head office for over 13 years.
Community, business and local leaders have started drawing up ambitious plans to transform Shipley's economic growth prospects as part of the Government's Towns Fund.
The Shipley Town Deal Board will guide the Shipley part of the Towns Fund which is designed to "drive long term economic and productivity growth through investment in connectivity, land use, economic assets including cultural assets, skills and enterprise infrastructure."
The board is made up of a group of stakeholders including the local MP, councillors, business representatives and local authority officers who have volunteered to support the development of an investment plan for Shipley.
The board will guide the council as the investment plan begins to take shape.
Once an investment plan has been developed, the council will be in a position to negotiate with the Government for a Town Deal of up to £25m to fund its economic development plans.
Clerkin said: "I am very excited to be a part of the Shipley Town Deal and look forward to working with the board, council, local business and wider community over the coming months.
"The Shipley Town Deal offers a fantastic opportunity to deliver a lasting legacy for Shipley that will benefit the community for years to come."
Councillor Alex Ross-Shaw, portfolio holder for Regeneration, Planning and Transport, said: "This is an exciting time for Shipley and the Towns Fund work will help develop and bring together some of the other projects being undertaken in and around Shipley such as the £1m Streets for People programme and the District Growth Fund that offers business rate relief when empty units are taken on.
"Shipley has always had an active business and volunteer community and CarnaudMetalbox are a great example of that and I'm delighted Adam has agreed to chair the board.
"It's great we've been able to pull together such a strong board to really drive Shipley forward over the next year and beyond.
:::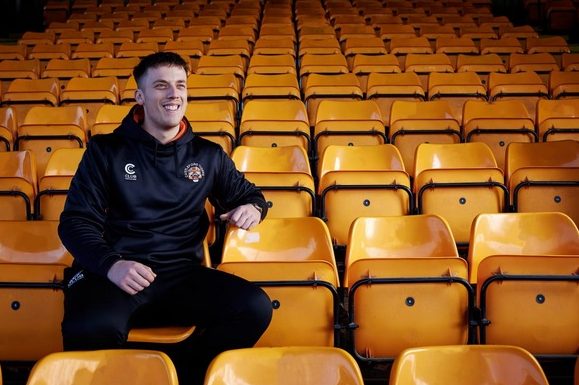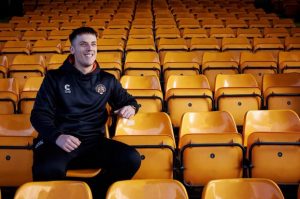 A student from Leeds Trinity University has been appointed academy strength and conditioning coach at Castleford Tigers Rugby League Football Club (RLFC) as part of an ongoing partnership.
Jordan Fentiman, from Leeds, has been appointed while completing an undergraduate degree in Strength and Conditioning at Leeds Trinity.
He is the most recent beneficiary of the partnership between the university and the club, after first participating through a Strength and Conditioning internship in November 2018.
He said: "I have been at the club for 18 months now and have been given some unbelievable opportunities and experiences.
"Every single coach at the club and my tutors at the university were all extremely supportive and have all played a part in my development as a coach and a person."
The partnership between Leeds Trinity and Castleford Tigers RLFC was established in 2017 with the Rugby Football League, to develop a co-funded PhD studentship for Rick Aben, former academy strength and conditioning coach at Castleford Tigers.
Aben's PhD investigates the fatigue and recovery response of academy rugby league players taking input from Professor Mark Russell and Dr Danielle Davis at Leeds Trinity University, and Professor Ben Jones from the RFL.
Professor Mark Russell, interim co-lead for Research and Knowledge Exchange at Leeds Trinity University, said: "The relationship between Castleford Tigers and Leeds Trinity University has proven especially worthwhile for all involved.
"When Jordan joined Leeds Trinity he was keen to gain practical experience in a sports team, and it was a great opportunity to use existing research links to enhance the student experience and allow Jordan to apply the principles he had learnt in his degree while also benefiting the club.
"Jordan's new role is a testament to his dedication, willingness to learn and his flexibility to adapt to the ever-changing landscape of professional sport.
"We look forward to continuing to work with him and Castleford Tigers."