Manufacturer invests to build on lockdown success
A manufacturer of windows, doors, home extensions and conservatory products has pressed the button on a new £500,000 investment drive to increase output and capacity.
Conservatory Outlet, which employs 174 people at its 60,000 sq ft factory in Wakefield, is looking to build on a successful lockdown period that saw it achieve over £4m of sales across its 28-strong retail network of installation companies.
The improvements will be completed in four stages and include a number of infrastructure enhancements and the addition of a new ACT Schirmer Cutting and Routing machine. It will dramatically improve the precision levels and edge quality of window profiles whilst increasing production efficiency significantly.
This installation will be joined in the New Year by the construction of a 10,000 sq ft factory extension.
Michael Giscombe, managing director at Conservatory Outlet, said: "Manufacturing is at the heart of what we do and it is vital for us to continue to invest in our factory so we can meet growing customer demand across existing and new product ranges.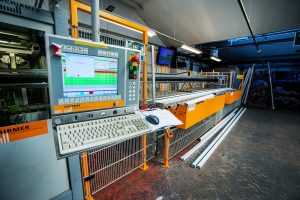 "Our network of retailers has achieved amazing success in recent months and this led to us exploring new ways to increase capacity whilst maintaining lead times.
"The opportunity to purchase the latest technology and make some key changes to our infrastructure will make a huge difference at just the right time.
"With all of the improvements, plus the factory extension, we believe we can increase capacity by 20% next year and, if the pipeline of sales is anything to go by, we're going to need that production flexibility."
Conservatory Outlet was purchased in an MBO in 2011 by current owners Greg Kane and Michael Giscombe.
They have focused on building strong partnerships with the company's network of retailers, while also investing heavily in the R&D team to ensure the business sets consumer trends in windows, doors and conservatory products.
This approach has seen the firm increase turnover from £8m to £21m in nine years, with an ambition to grow by 50% between now and the end of 2024.
Kane continued: "Like most businesses we were temporarily hit by Covid-19, but decided to tackle issues created by the pandemic head-on, launching a 'lockdown sales competition' that achieved £4m in just seven weeks.
"To support this, we also accelerated the launch of our innovative new design app, which gives customers the freedom to design and price hundreds of styles of windows and doors online via zoom.
"Consumers are also choosing to spend more money on home improvements this year, rather than expensive foreign holidays.
"This meant it was the perfect time to introduce the Eclipse Collection, our exclusive new range of super-slim aluminium windows and doors that are proving extremely popular."
Conservatory Outlet has reinforced its commitment to developing the talent of the future by recruiting five new apprentices.