Coronavirus business update: Latest news across Yorkshire
York-based biotech business Aptamer Group and its partner Integumen have progressed to full testing on the development of two new tests for COVID-19.
The partnership is developing Microtox PD, a wastewater detection system for COVID-19 and the new COVID-19 breath test system, Microtox BT.
Over 60% of COVID-19 positive patients have shown gastrointestinal symptoms and the SARS-CoV-2 virus found in their faecal samples.
Sampling wastewater from households has the potential to provide an early warning system for localised outbreaks in communities and help to control the spread of this disease.
Aptamer Group has supplied SARS-CoV-2 specific aptamers to Integumen for the detection of the virus in wastewater samples.
First testing and validation of the aptamers in this Microtox PD wastewater detection system have shown positive results and this detection system will now undergo full testing with real SARS-CoV-2 virus samples at the University of Aberdeen.
It is anticipated that this detection system for the continuous detection of SARS-CoV-2 in sewage could be launched in early 2021 and will be distributed through Modern Water's global footprint of over 3,000 installations to help control the pandemic.
Aptamer Group is also collaborating with Integumen on the development of its new personalised COVID-19 breath test, Microtox BT, and its complementary Digital Health Pass platform.
The breath test is intended to offer a simple, daily testing for potential COVID-19 infection and is linked to a 24 hour Digital Health Pass for each person.
This health pass would show positive or negative results , creating a personalised pass for entry into specific social locations, such as airports, offices and events, to allow the economy to re-open.
Aptamer Group's aptamers for SARS-CoV-2 are included in the test to detect infection levels in a breath sample.
Following successful first-round testing of the Microtox BT breath test, the University of Aberdeen will now carry out further confirmatory tests on COVID-19 samples, along with a planned trial of up to 5,000 people, to check it's performance against third parties using PCR and antigen tests.
Results are expected before the end of the year.
Dr Arron Tolley, chief executive of Aptamer Group, said:  "This is a significant step forward in the fight against coronavirus and our partnership with Integumen is a strong endorsement of the application of aptamers in virus testing.
"Once the trials have been successfully completed, we will have two significant weapons that are crucial to beating the virus and enabling life to get back to normal."
:::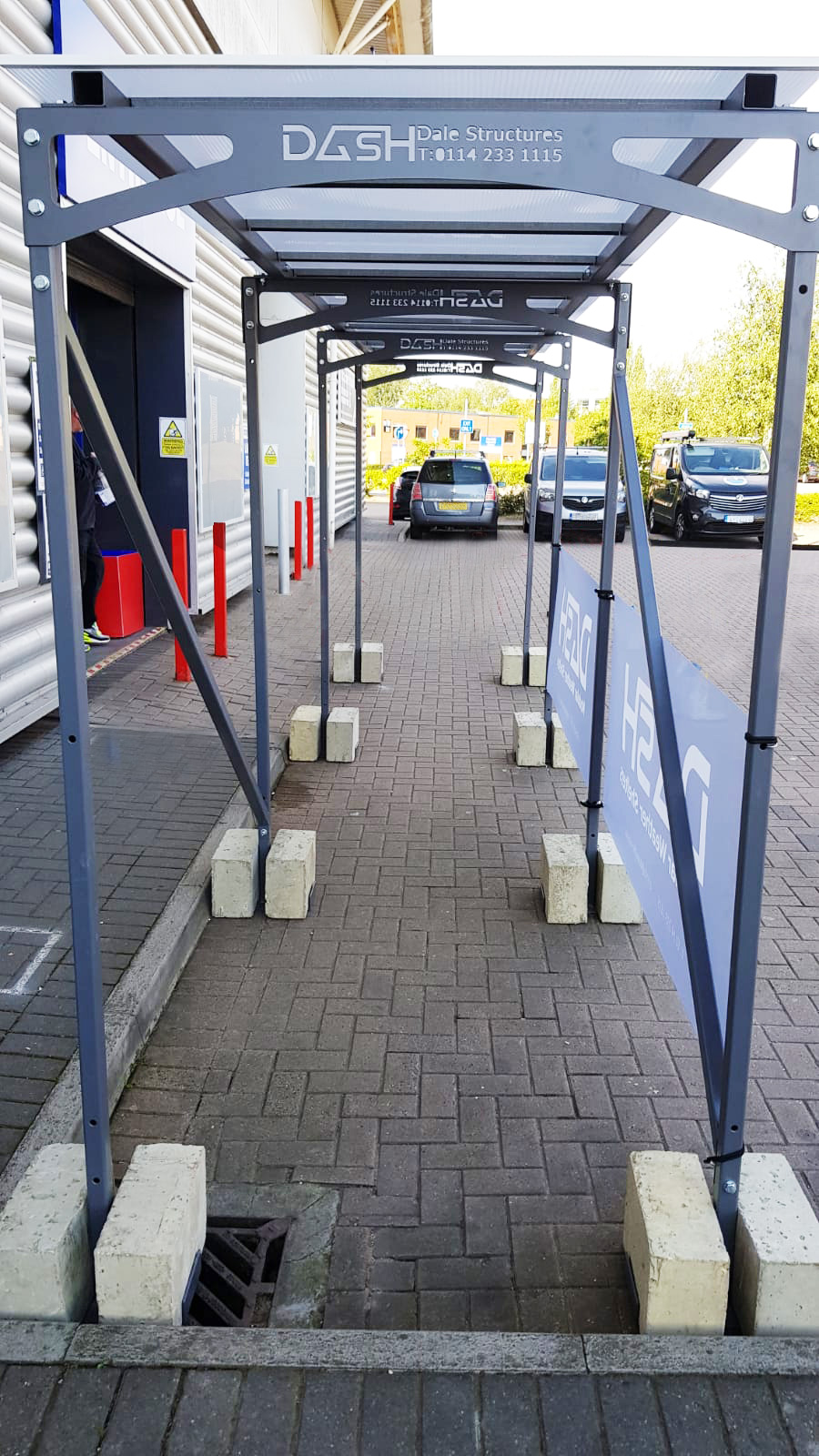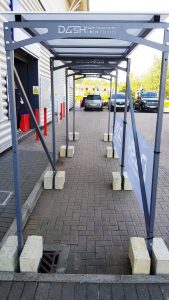 An office fit-out company has diversified by bringing out a retail modular weather shelter offering.
DASH Modular Weather Shelters – a new semi-permanent and modular weather shelter system which requires no planning permission – has been launched by Sheffield-based Dale Office Interiors via its new sister company Dale Structures.
The shelters, which are modular and can be installed at any length, have been specifically designed to protect customers in extended social-distanced queues from inclement weather.
David Bricknell, MD of Dale Structures, said: "The idea for DASH came about after having to queue in the rain outside a well-known DIY store.
"Within one month we had a prototype and now we have our very first pilot scheme up and running with one of the UK's largest retail chains.
"Likewise, the well know DIY giant where the idea was born is set to have their first pilot up and running in the next few weeks.
"We have found that as we move into the winter period, organisations are looking at how they can prepare for the bad weather by searching for solutions that support their customers while they queue outside of their stores, whilst maintaining social distancing.
"Most temporary canopies are not robust enough to be left outside for any length of time, and permanent structures require planning permission.
"With continued social distancing, local lockdowns, and unreliable British winter weather, our DASH system is a fantastic, cost-effective and easy to deploy solution for retailers that want to enhance their customers' experience and safeguard trade in these challenging times.
"COVID-19 has rocked our economy, so we hope that in a small way, DASH will support businesses and prevent customers turning away from stores when it's raining as they see a long, unsheltered queue."
:::
The Wesley Centre in Malton has been awarded a grant of £78,000 thanks to the £1.57bn from the Government's Cultural Recovery Fund for Heritage.
The Wesley Centre is one of 433 such organisations to receive a share of £67m from the Culture Recovery Fund for Heritage to help with costs for operating, re-opening and recovery.
The grant awarded to the Wesley Centre is part of the Department for Digital, Culture, Media and Sport's campaign #HereForCulture – a movement that unites the public, Government and cultural organisations in support of cinemas, theatres, music venues, museums, galleries – and the nation's heritage.
It will be used to help the large historic building in Malton to become even more Covid-secure, as well as supporting its operating costs and paying for urgent repairs to the façade, together with a new conferencing sound system to facilitate social distancing for meetings, and broadcast facilities to live-stream community events.
Paul Emberley, trustee and development lead at the Wesley Centre, said: "This is a much-needed boost to our whole community in Malton.
"It ensures the Wesley Centre can continue to serve the community during the pandemic, as well as help us build on the ambition to be an exciting home for classical music and events.
"Culture creates jobs and supports livelihoods and it's something that this pandemic has taught us is more valuable than ever."
The transformation of the building into a state-of-the-art classical music venue and community hub began five years ago when the community came together to save the historic chapel from becoming mothballed when its roof was in urgent need of repair.
Whilst remaining a place of worship, the final phases of restoration will feature a 550-seat classical concert hall and event space, with a café, and much-needed affordable meeting spaces for everyday community use.
Reverend Peter Sheasby, Methodist Minister in Malton and the Superintendent Minister of the Ryedale Methodist Circuit, said: "The Wesley Centre has been at the heart of our town for almost 210 years and its plans for sensitive transformational redevelopment demonstrates the spirit we need, to help safeguard what matters in our lives.
"Music brings people together and culture enriches all our lives, and this building offers a place where all can gather.
"Covid-19 has shown us how much we rely on each other, and how we can pull together.
"As a re-opened place of worship the Wesley Centre offers a lifeline in these challenging times, with the hope of a vibrant future."
It is expected that the final stages of the Wesley Centre project development will start next year.
:::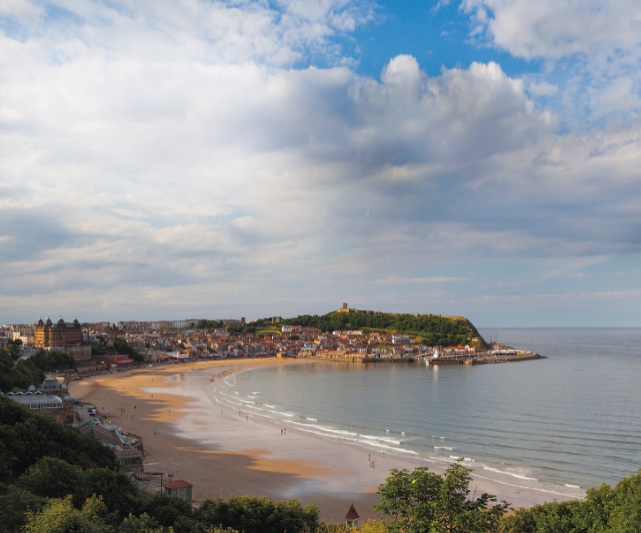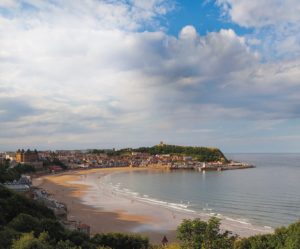 North Yorkshire County Council has praised Parkdean Resorts for its "exceptionally impressive" response to COVID-19 at its holiday parks, including Cayton Bay between Scarborough and Filey.
The UK's largest holiday park operator, which invested £80m at its venues in 2020, brought in processes and procedures to ensure the continued safety of employees, holidaymakers and local communities.
Parkdean Resorts is a long-term investor in North Yorkshire, directly employing 450 people in the region and supporting hundreds more in the local supply chain.
Each park provides a customer base for numerous businesses including shops, pubs, restaurants, cafes and visitor attractions.
Councillor Carl Les, leader of North Yorkshire County Council, said: "After many months of great uncertainty and stress, it has been wonderful to see families taking a well-deserved staycation break that is safe, secure and hassle-free and also supports the local economy in North Yorkshire.
"We believe that North Yorkshire's visitor economy will be a key driver in the UK's economic recovery, providing much-needed employment and investment opportunities as part of post-lockdown growth.
"We congratulate Parkdean Resorts for its exceptionally impressive response to COVID-19 and for its continued commitment to North Yorkshire's world-leading tourism brand and multi-billion pound economy."
Barrie Robinson, operations director at Parkdean Resorts, said: "We have made an extraordinary investment in making our sites as secure as possible for the continued safety of our employees, holidaymakers and local communities.
"Most people who work with us live within five miles of our sites and most people who visit us live within 50 miles of our sites so local and regional prosperity is very important to us.
Safety measures at the company's resorts include on-site testing, in-depth cleaning and self-sufficient facilities on site.
Caravans are self-contained and self-catered and have no shared doors or communal areas with a distance of at least five metres between all accommodation.
:::
Technology supplied by a Yorkshire company is being used to help ensure the effectiveness of quarantine procedures in the Bahamas as part of the islands' response to the COVID-19 pandemic.
The Mobile Tornado solution gives governments the ability to monitor the self-isolation and symptoms of quarantined individuals through a location-based app.
The app is downloaded directly onto mobile devices or 'pushed' to individuals remotely.
Authorities use the system to communicate directly with quarantined individuals and check on their condition and care plans, reducing the risk to frontline services.
It also allows them to pinpoint their location and add a virtual boundary known as a geofence.
The Government of The Bahamas has been adding all airport arrivals to the service and is monitoring and supporting quarantined individuals through a central command centre, which opened in August.
In September, the Government cleared the majority of the country's islands and cays to resume normal commercial and additional social activities.
Mobile Tornado, part of Harrogate-based Intechnology plc, specialises in instant communications for workforce management.
The technology was developed in Israel and has been deployed in more than 30 countries worldwide with mobile operators, governments and enterprises.
Mobile Tornado has a global network of business partners and value-added resellers. Storm Intelligent Communications, also part of Intechnology plc, is the UK reseller.
Luke Wilkinson, founding director of Storm, said: "Our world-leading technology helps authorities to ensure the effectiveness of quarantine policies and reduce the spread of COVID-19.
"The simple and scalable solution reduces the pressure on state resources and allows governments to limit lockdown restrictions for the majority."