Workers to get more than two thirds of pay if firms ordered to close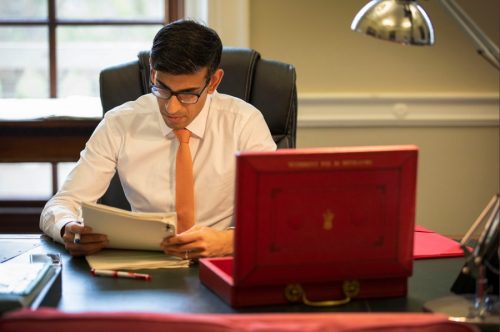 Staff who work for UK firms forced to shut by law because of COVID-19 restrictions are to get more than two-thirds of their wages paid for by the Government.
The scheme begins on 1 November and runs for six months. Chancellor Rishi Sunak has this afternoon said it would be a safety net for staff and businesses.
A restrictions update, which could see pubs and restaurants shut in the worst hit areas of the country, is expected on Monday.
The support will be reviewed in January. But until November, businesses that are asked to close can continue to use the furlough scheme.
The grants will be paid up to a maximum of £2,100 per employee a month and the Treasury said they will protect jobs and enable businesses to reopen quickly once restrictions are lifted.
In addition, for businesses forced to close in England, the Chancellor announced an increase in business grants – with up to £3,000 a month paid every fortnight.
He described today's announcement as "a very different scheme to what we've had before, this is not a universal approach, this is an expansion of the job support scheme specifically for those people who are in businesses that will be formally or legally asked to close".
The assistance will only apply to companies that have to close as a result of Government regulations, but as yet it is not clear which firms may have to close.
Reported by the BBC today, Sunak said: "The rise in cases and hospital admissions in certain parts of the country is a concern.
"It's right the Government considers a range of options, but it's also right they engage with local leaders.
"That is what's happening this afternoon and over the weekend so those conversations can happen and collectively we can decide on the appropriate response."
Reacting to the Chancellor's statement, Henri Murison, director of the Northern Powerhouse Partnership, said: "This news will undoubtedly come as a huge relief to many communities and businesses across the whole of the North.
"Further lockdowns must go hand in hand with further support packages from the Government and this scheme will help to save businesses and livelihoods for up to hundreds of thousands of people.
"However, the help can't stop here. We wrote to the Chancellor today to urge more support in both the short and long-term. We can't let Covid undo all our efforts to rebalance the economy in recent years.
"Instead we must give local leaders more tools to meet the needs of the people who elected them and invest back into Northern cities – if we are ever to achieve real levelling-up."
A group of Northern mayors issued a joint statement on the Chancellor's business package announcement. It was signed by: Andy Burnham, Mayor of Greater Manchester, Jamie Driscoll, Mayor of North Tyne, Dan Jarvis, Mayor of Sheffield City Region and Steve Rotheram, Mayor of Liverpool City Region.
They said: "We are pleased that the Government has listened and recognised that any new system of restrictions must come with a substantial package of financial support.
"What has been announced by the Chancellor today is a start but, on first look, it would not appear to have gone far enough to prevent genuine hardship, job losses and business failure this winter.
"Mayors and leaders from across the North will be meeting to discuss it in more detail and we will make a further statement then."