Spending Review outlines largest fall in output for 300 years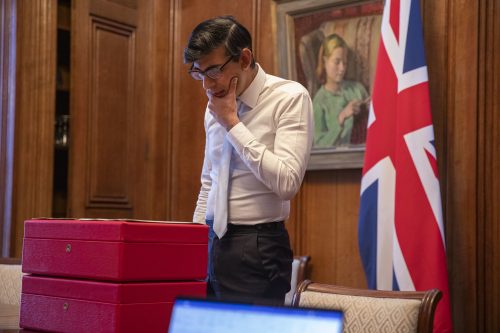 The UK economy will shrink by 11.3% this year – the largest fall in output for 300 years – Chancellor Rishi Sunak said on Wednesday afternoon in his Spending Review.
Sunak said the Covid-19 will leave "long-term scarring" and that the economy won't return to pre-pandemic levels until Q4 of 2022. By 2025, said Sunak, the economy will be 5% smaller than first thought in the Spring Budget earlier this year.
The Chancellor also said that Government borrowing will reach almost £400bn this year – some 19% of GDP, the largest level of borrowing in peacetime.
Sunak said that a new "infrastructure bank" will be set up and headquartered in the north of England. It will finance major projects starting from next Spring.
A new £4bn levelling-up fund was also unveiled. Local areas will be able to apply for funding for major projects starting from next Spring. The projects, said Sunak, would have to have "real impact" and be delivered within the lifetime of his Government.
Elsewhere, Sunak said the Conservative manifesto pledge to spend 0.7% of GDP on overseas aid will be temporarily scrapped. It will be cut to 0.5%.
Some one million nurses, doctors and others in NHS will get a pay rise, while others in the public sector will be faced with a pay freeze. Another 2.1 million public sector workers who earn below the median wage of £24,000 will be guaranteed a pay rise of at least £250 next year.
The National Living Wage will rise to £8.91 a hour and there will be a Minimum Wage increase, said the Chancellor.
He added: "This Spending Review delivers on the priority of the British people. Our immediate priority is to protect people's lives and livelihoods. Our health emergency is not yet over and our economic emergency has only just begun."
Responding to the review this afternoon, Henri Murison, director of the Northern Powerhouse Partnership, said: "It feels like a hollow victory to create a £4bn levelling up fund when Whitehall will still get to decide how it is spent.
"It is disappointing we're yet to see targeted investment at the biggest barriers to driving up productivity which can only be done by trusting directly elected Metro Mayors and their combined authorities – this is the only way we will close the North-South divide."
But Lord Jim O'Neill, vice-chairman of the partnership, said he was encouraged by news of the National Infrastructure Bank based in the North, along with the acceleration of the Borderlands Growth Deal.
He added: "Both are encouraging signs the Chancellor has begun delivering on his commitment to levelling up, focusing on issues which impact productivity."
Drax Group CEO Will Gardiner said: "Today's Spending Review setting out the next stages of the Government's record investment plans in infrastructure to drive a green recovery underscores the significant role for businesses in the North, like Drax, who will be at the heart of a green industrial revolution – attracting investment and creating jobs and helping the UK show climate leadership ahead of COP26 next year.
"Investing in new green technologies like bioenergy with carbon capture and storage at Drax to deliver negative emissions, and decarbonising other industries in the Humber cluster would boost skills and create tens of thousands of jobs – helping to level up  while delivering over £3bn in clean growth."
Steve Harris, regional director for Yorkshire and the Humber at Lloyds Bank Commercial Banking, said: "The Treasury has put large sums of money behind protecting and creating jobs in a bid to curb unemployment and underpin the economic recovery.
"This is encouraging news for the region given our latest data shows that many firms expect to reduce their headcounts over the next year.
"Meanwhile, the creation of jobs comes hand-in-hand with the rollout of local and national infrastructure improvements that will be a catalyst in the region's post-lockdown come-back.
"The levelling-up agenda is very welcome and firms will be eagle-eyed for action – in the time they need it most."
Barry White, chief executive of Transport for the North, said: "The £4bn Levelling Up Fund is encouraging – Transport for the North has already put forward many shovel-ready transport projects that could be fast-tracked to create jobs in the short-term and economic growth in the long-term.
"However, how those projects are appraised and decided will be crucial. We need to avoid a situation where communities are stuck in a bidding cycle of competition for investment, with decisions still being made by Whitehall rather than locally.
"Today's National Infrastructure Strategy chimes entirely with our priorities for the North – closing the economic divide; fast-tracking delivery of strategic projects; and slashing carbon emissions as quickly as possible.
"The projects outlined are a good start, but there's a lot of detail on rail in the North still to come with the forthcoming Integrated Rail Plan, which we await with interest."
Tom Bridges, UK cities advisory leader and Leeds office leader at Arup, said: "The publication of the National Infrastructure Strategy and creation of a National Infrastructure Bank, located in the north, are positive steps and strong signals that levelling-up and resetting country's approach to infrastructure remains a priority. Green Book reform is further evidence of this, and its importance should not be understated. The proposed changes introduced today are welcome and are in line with Arup's suggestions made earlier in the year.
"The £4bn levelling up fund is good news for towns and cities, particularly for those hit hard by Covid-19 restrictions. We will have to wait and see for the detail, and we think Mayors, combined authorities and councils will have an important role in working with MPs on the plans for how it is spent.
"Whilst there is much to be welcomed in today's announcement, there is now a need to develop a clear, coherent and long-term plan for levelling-up and transitioning to a green economy. The Spending Review is only for one year, so some of the necessary long-term decisions remain to be taken. It is only through sustained investment and further reform of decision-making, that the Government will be able to realise its big priorities."
Cllr Susan Hinchcliffe, chair of the West Yorkshire Combined Authority and leader of Bradford Council, said: "It is deeply disappointing that the Spending Review did not include a commitment to support the West Yorkshire Economic Recovery plan which has been designed to create 70,000 jobs, particularly as the Chancellor highlighted the scale of unemployment the country is facing as a result of COVID-19.
"Instead the Government set out a centralised 'levelling-up' fund into which we will have to bid, rather than giving regions which have been badly hit by COVID restrictions for months the support they need now to accelerate recovery. We will continue to press them to support the West Yorkshire Economic Recovery Plan while also looking at how we can use the funding unlocked by our landmark devolution deal to help our region emerge from the pandemic as strongly as possible."
Cllr Judith Blake, leader of Leeds City Council and West Yorkshire Combined Authority transport lead, said: "While the commitment to reforming spending rules to support investment in the North is a step in the right direction, it is made against the backdrop of continued threats to the eastern leg of HS2 and uncertainty around the ambitions for Northern Powerhouse Rail which undermine the Government's credibility in this area."
Roger Marsh OBE DL, chair of the Leeds City Region Enterprise Partnership and NP11, said: "With the Leeds City Region receiving £350 million in the last round of European Investment and Structural Funds, it is clear the UK Shared Prosperity Fund has some way to go to match that scale and ambition and I hope we can work with Government to shape this fund so it meets our region's needs."