Housebuilder exceeds revised expectations despite pandemic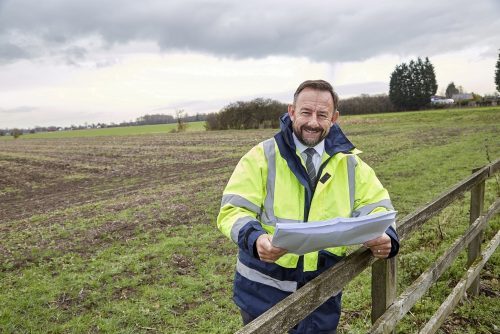 Yorkshire-based housebuilder, Beal Homes, has weathered the Covid storm this year, but remains vigilant about potential disruption posed by Brexit.
Richard Beal, chief executive of the family owned business, said the company achieved nearly 300 property completions in 2019 and had been expecting to exceed this total for 2020, shortly before the virus outbreak.
"Of course we had to revise our forecast, and we were looking at scenarios of only about half of what we'd originally predicted," he said.
"But instead we're going to finish the year with about 200 to 220 unit completions.
"So we've done better than we thought we would. That has come with enormous challenges, not least with staffing and supply chain issues."
"Construction is considered a key industry and being able to operate safely for staff and customers has been really demanding, but I'm very satisfied with how we've ended up."
He said the second lockdown in the autumn had been "smoother", as unlike the first there was no halt to the conveyancing chain which had badly disrupted the house buying process.
"We were able to continue selling and the housing market was allowed to continue as normally as possible," he added.
"We don't have anyone furloughed now and we have a safe working policy up and running in our office and on our construction sites.
"Those who can work remotely are doing so, but the sooner everyone can come back into the office the better.
"I'm a firm believer in working together and in close collaboration. It's difficult to establish the culture of the business with remote working and also difficult to develop young talent.
"You can't train a young surveyor when he's sitting on his bed with a laptop on his knee. So we're looking forward to a return to some normality."
Beal stressed Covid-19 wasn't the only hurdle the company faces, with the final outcome of Brexit still unresolved.
"We still foresee supply chain challenges into next year, not just because of the pandemic but because of the ongoing Brexit situation.
"There is still a lack of clarity about what Brexit might involve for products and appliances that come from abroad. So we're not out of the woods yet.
"Any cost increases from Brexit are unknown at this stage so we need to be aware of what that could entail."
He said with uncertainty continuing, the housing market would benefit from the Government maintaining the current stamp duty holiday.
As reported earlier this week, Beal Homes has revealed plans for a new head office at Wykeland Group's Bridgehead business park.
The company will move 100 yards across the road from its existing home to a new £4.5m building next to the Porsche Centre at Bridgehead.
Last month the business reported it had achieved 97% of its forecasted sales in the year to date, with sales in August to October 16% ahead of the same period in 2019.