Agency roundup: Anita Morris Associates; Enjoy Digital; Engage; and more
X

Register for free to receive latest news stories direct to your inbox
Register
Specialist culture, regeneration and property PR agency Anita Morris Associates (AMA) has kickstarted the year by adding three new business wins to its growing portfolio.
These include Bauman Lyons Architects, Grade II* listed church-turned-arts-centre Left Bank Leeds and the University of Leeds, with a focus on its Dialect & Heritage project.
Building on the success of campaigns for clients in the built environment sector, Ilkley-based AMA has secured the contract to deliver PR services for Leeds-based architecture practice Bauman Lyons, known for its work on repurposing listed buildings.
With the practice announcing a management buyout and a shake up in the team, AMA has been tasked with mapping out a long-term communications strategy that supports the goals and priorities of the new team as it enters a new era.
For Left Bank Leeds, AMA will help put the venue on the map, starting with a soon to be announced newly commissioned art installation, co-created by a leading artist working with the local community.
AMA will also set out the plan for a national and regional PR campaign for the University of Leeds' Dialect & Heritage project which is opening up the archives of the Survey of English Dialects, the most complete survey of the dialects of England ever undertaken.
The team behind the project has commissioned AMA to develop a communications plan for the Dialect & Heritage Project to map out PR activity that will raise awareness of the project amongst its target audiences in various corners of the UK.
The agency will also provide training and guidance to support staff and volunteers in developing and delivering project communications.
Managing director Anita Morris said: "Like the rest of the world, we've had to adapt to a whole new way of working in the last year, so I'm delighted that we've kicked off 2021 by bringing in three new business wins, all while supporting current clients, many of whom themselves have continued to produce great results in the most challenging circumstances."
:::
Enjoy Digital, an integrated digital marketing agency in Leeds has ambitious growth plans for 2021.
It has been busy expanding, hiring for a range of new roles across data science, SEO, project management, finance, client services and social media & PR.
Joining the team most recently is Rachel Brown, senior digital account manager, who brings 10 years' experience working with clients such as New Balance, LNER, Asda and Sky to name a few.
Brown boasts in depth knowledge and experience of events, production, and creative branding.
She will be a driving force for some of the agency's biggest clients, such as Nisa, Care UK and Commonwealth War Graves, working alongside C-suite stakeholders to amalgamate their digital ambitions.
Chris Jackson, managing director, said: "It's incredibly exciting to have Rachel join as a senior member of the team, her wealth of knowledge across many industries from retail to finance and the third sector bolsters our diverse client portfolio, driving forward our unified digital offering.
"We look forward to continually supporting the digital community, offering our partners and clients the best digital marketing insight, and helping people thrive in this everchanging landscape."
:::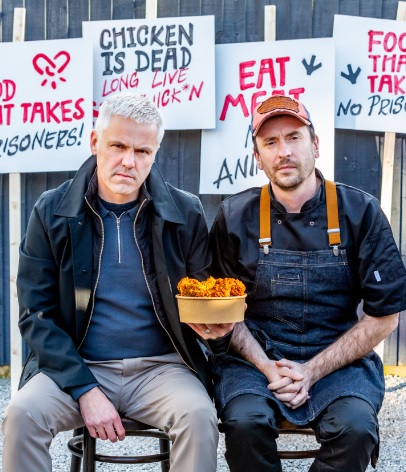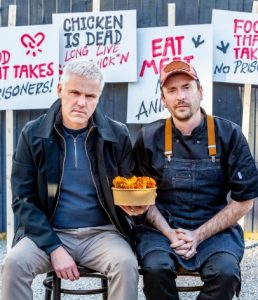 Leeds-based digital agency Engage has worked with new start-up Vegan Fried Chick*n (VFC) to deliver a website to support the brand launch and drive sales.
Launched in December 2020, VFC is the brainchild of Matthew Glover, the founder of Veganuary, and Adam Lyons, owner of Source Restaurant in York.
The duo founded the vegan fried chicken provider after perfecting the secret recipe during lockdown in March 2020.
Engage worked with VFC to deliver the design and delivery of an e-commerce store.
The website enables VFC to manage and ship orders to customers, and reflects the brand's mission statement.
Since its launch on 17 December 2020, the website has driven 2,121 orders with a product value of over £52,000. VFC has also secured over 13,000 Instagram followers.
Matthew Glover, co-Founder at VFC, said: "As a start-up it was crucial that we launched with a bang, and the website Engage has delivered has enabled us to do just that.
"Although we believe in our products and our mission, it's been astounding to see the level of orders being placed and the success we've already achieved."
Alex Willcocks, co-founder at Engage, added: "It's been really exciting to work with such an inspiring start-up. Not only does VFC have a strong, ethical mission, but its products are delicious.
"The results speak for themselves and highlight the significant impact that the website has had in generating a successful brand launch.
"It's been fantastic to experience the growth of VFC, and we're looking forward to working with Matthew and Adam on future exciting projects."
Engage was appointed by VFC after a recommendation from Elmwood, the brand consultancy responsible for creating the VFC brand.
:::
Brighouse-based communications agency Faith PR has been appointed by software provider Adventoris to raise its profile both locally and nationally following a record year for the firm in 2020.
Faith PR will take on the company's media relations and award-writing activity, aiming to increase overall brand awareness as well as raising the personal profile of founder and CEO James Clarkson and CTO Aman Shergill.
Adventoris is the creator of SwiftCloud, a ground-breaking mobile business to business software that revolutionises the way companies make sales and engage with their customers.
Adventoris, based in Huddersfield but working with businesses across the UK and Europe, diversified its product offering last year to support distributors and wholesalers during the pandemic, leading to 100% growth in 2020 and a predicted turnover of £2.5m for 2021.
Clarkson said: "Despite the uncertain climate, 2020 was a record year for our business.
"The software industry, in particular e-commerce, has grown considerably due to the pandemic and we were able to adapt our current B2B software model to fulfil the needs of our customers as they shifted to target a more consumer-based market.
"This is an exciting time for Adventoris and our team is looking forward to starting work with Faith to help further strengthen our positioning as a leading SaaS provider to help even more businesses streamline their sales and ordering processes and aid with their digitisation."
Managing director of Faith PR, Stefanie Hopkins, added: "I'm thrilled to welcome Adventoris to our client portfolio.
"Their team is dedicated and highly skilled at what they do, and we're looking forward to helping to bolster awareness of the SwiftCloud platform which has already benefited so many B2B businesses."