Promotional goods business gears up for growth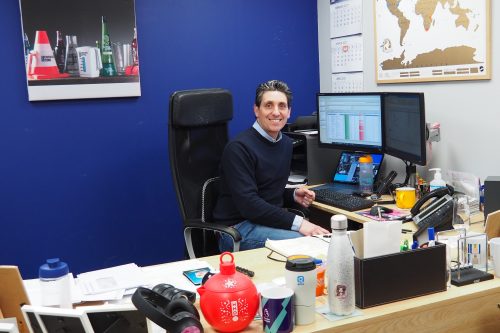 A company which supplies promotional products to corporate organisations and well-known brands plans to expand significantly this year, relocating to new premises and creating jobs.
In addition to supplying typical promotional merchandise, Leeds-based MPH Enterprises sources products from across the world specifically tailored to clients' individual needs.
In response to COVID-19, the company has also created hundreds of products that enable companies to reach customers in their homes, such as personalised work from home kits, face masks that match uniforms, branded recipe boxes and even jigsaw puzzles, as well as flags and bunting for sports fans watching events at home.
Its client list now includes local businesses and councils through to The Premier League, Jet2, Travelodge, WKD, Radisson Hotels, Bupa Care Homes, Global Radio, ITV, Nickelodeon, Bottlegreen Drinks, Puma, NCP and Pizza Express.
MPH Enterprises was founded in 2001 by managing director, Marc Harvey. He initially started with a desk and phone in the corner of a borrowed office.
Three years later he was joined by business partner and sales director, Stephen Isaacs, who had previously forged a successful career selling print equipment and consumables. Isaacs now oversees the logistics, purchasing and technical side of the business.
Today, MPH Enterprises employs a 10-strong team and will recruit several more people before summer, after growing turnover by 50% in its latest financial year.
Later this year the company plans to relocate from its current base, just off Leeds Ring Road at Limewood Court near Seacroft, to a new warehouse and distribution centre in Leeds.
Harvey said: "There are lots of companies offering branded mugs and pens, but that has never been our primary market.
"Instead, our ethos is about working with clients to determine what will make a difference, then sourcing those goods, wherever they are in the world, which enables us to offer an infinite number of products that make a real impact.
"Other selling points include our ability to offer storage and fulfilment, as well as giving clients their own online ordering portal.
"Our in-house print services enable us to fully personalise merchandise with recipients' names and other features, which genuinely stand out from the crowd.
"These have all been major growth areas recently and our planned expansion this year will enable us to capitalise further on these services."
Isaacs added: "Although the pandemic means we are producing significantly less merchandise for events, the situation has created plenty of new opportunities for companies and brands to engage with their employees and clients by sending treats, gifts, well-being packs and all types of other goods to people at home.
"Done properly, this offers profound and long-lasting value, and it is an area we have become experts in."