Partnership sees sustainability consultants cut emissions on construction sites by 99%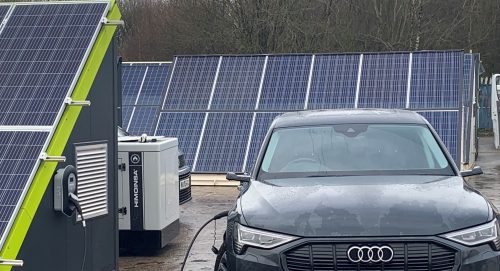 Yorkshire-based sustainability consultants EV3 Power and plant hire company Think Hire have developed a new solartainer solution that reduces carbon emissions for off-grid sites such as construction sites by 99%.
This development follows last mont that the two businesses would be collaborating to provide housing developers, contractors, civil engineering and construction companies with fully environmentally friendly plant equipment, enabling them to meet new environmental targets and combat climate change.
The new solution which uses HVO fuel, one of the cleanest on the market, in diesel generators attached to solartrainers, builds on EV3's previous method which saw the firm's recharge technology used to provide a renewable power source and cut the running time of diesel generators by half.
Now by using HVO fuel alongside the EV3s renewable technology the companies are able to eliminate 90% of net CO2, meaning companies using off-grid solutions to meet their environmental requirements and save money without disrupting their current infrastructure.
Pete Bevils, managing director at EV3 said: "Solartainers have been a great way to lessen the environmental impact of a site. The challenge was to overcome the diesel generator which usually runs 24h a day. Our system integrates the solartainer panels, battery and an EV charging unit. The battery stores energy which can used as needed, so the normal runtimes are halved to 12 hours per day.
"The introduction of HVO fuel means that even while the generator is running, emissions are kept to a minimum.
"This is a game changer in the industry which works on very tight margins. The fuel savings alone are significant, but coupled with the environmental considerations, we hope this will help change the way sites operate."
---
EV3 is one of the sponsors of the upcoming sustainability conference In The Circle which will be taking place virtually across Yorkshire on 19 May. Tickets are free and the event promises to offer attendees the chance to hear from 30 speakers about the opportunity sustainability provides businesses.
The event is being curated by TheBusinessDesk.com alongside headline sponsors musicMagpie and Squire Patton Boggs.
Find out more information at inthecircle.co.uk