Mid-sized businesses favour more remote working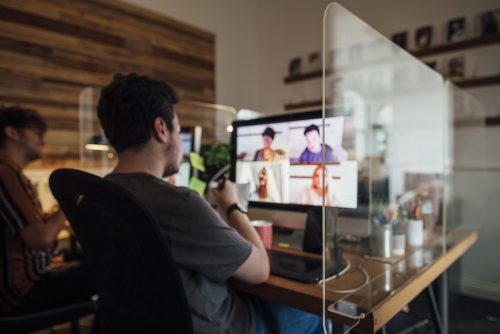 New research has found that just 5% of 603 mid-sized businesses surveyed believe that full time office working will be most effective for their people post-pandemic.
Almost half (44%) of the businesses surveyed by business and financial adviser Grant Thornton UK LLP believe that a shift towards more remote working, rather than office based, will be most effective. Of these, 37% believe that a blended approach, with more time spent working remotely than in an office, will be best for their business, while 7% say that full time remote working will be best for them.
In Yorkshire and the Humber specifically, the picture is slightly different, where 22% of the businesses surveyed favour a return to full time office working for their teams. However, almost three quarters still favour a hybrid approach, with nearly one third (32%) believing an even 50/50 split between home and the office will be best for their people.
While home working offers many benefits for companies, the businesses surveyed in the region who have dealt with increased home working in the last year reported their top five people related concerns as:
Loss of culture (55%)
The provision of training (45%)
Managing the work of more junior employees (40%)
Reduced productivity (38%)
Mental wellbeing (36%)
With mental wellbeing one of the top challenges stemming from remote working, it's encouraging to see that over half (54%) of the businesses in the region surveyed have increased their investment in wellbeing over the last year.
Andy Wood, managing partner for Yorkshire and the North East said: "Businesses and their people have had to continually adapt how they work over the course of the last 12 months and many of the changes are likely to remain, at least to some extent, as we start to resume a more 'normal' life.
"In Yorkshire, the majority (74%) of the businesses surveyed were in favour of a hybrid approach to working for their people, which proves that a form of remote working will play a much bigger part than ever before in the way we work.
"The discussion now needs to move to how businesses will support this evolution and ensure they adapt effectively, because every person's job role and personal working style is different; there won't be a one size fits all approach.
"It's great to see the Yorkshire and the North East economy starting to gain traction as lockdown rules ease. As they do, businesses will need to develop bespoke solutions that work for their operating models, their clients and for their people."
"One of the key things businesses have learnt from the pandemic that will be useful to carry through to the future is that proactive engagement with their people is vital. It's important that businesses continue to engage and listen and use this insight to develop the right solutions."
He added: "It's an ongoing conversation and no one has all the right answers yet, but businesses that fail to adapt and listen to the changing requirements of their people run the risk of losing talent to those that do."