Major Northern conference launches to showcase the North's innovators and disruptors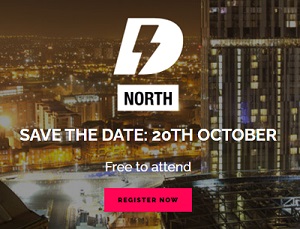 Businesses must pick a side: be the disruptors or the disrupted.
The shockwaves from the pandemic have combined with the acceleration of technological progress to give a jolt to every company, in every sector, in every geography.
The North of England was already working hard to be at the forefront of the technology that will shape the lives we have in the future.
These innovations that are changing everything from how we shop, how we heat our homes, and how we stay safe online, to how our football teams find the next superstar, and how we grow our businesses are all being imagined and implemented here.
TheBusinessDesk.com is today launching its new conference, Disruptors North, which takes place on Wednesday, October 20. Click here to secure your free place.

The conference is being supported by headline partners Deloitte, Clarion, Quba, and UKFast.
"The North has innovation and disruption within its DNA," said Jonny Sharp, director at Deloitte.
"As we look to build our economy for the future, all businesses need to be willing to challenge and disrupt their sectors. Deloitte is proud to be sponsoring Disruptors North and showcasing regionally, nationally and internationally the fantastic Northern businesses which are already transforming industries as well the next wave of entrepreneurs and businesses that will be shaping the future."
Nexus, which is the University of Leeds' innovation hub, and digital agency Stickyeyes are also sponsoring the event.
Disruptors North is a one day virtual conference that will showcase the businesses already leading the charge and the next generation of entrepreneurs and companies that are aiming to transform the regional, national and global economy.
It will encourage and inspire business leaders and managers who know they need to become a disruptor. It will also inform you on what is being done by our politicians and policymakers to attract technology companies and investments, boost skills and create the conditions for innovative businesses to flourish.
The event will feature experienced business leaders and entrepreneurs alongside some of the most exciting young technology companies from across the North. They will share their knowledge and experience, and analyse the trends and technologies that could transform your business.
Richard Moran, senior partner at Clarion, said: "Technology underpins every business sector and it both creates and disrupts markets.
"In response to COVID-19 many businesses had to embrace technology and digital capabilities that they had previously not considered. Whether it was tools to enhance operational requirements or routes to market, leaders in technological innovation were, and continue to be, in demand. The North is home to market leaders in Fintech, Healthtech, Edtech, Gaming tech, and Agritech amongst others as well as in emerging markets such as satellite technology which could be a game changer for the region.
"The future is exciting and we are delighted to be able to support this conference and what lies ahead for the innovative North."
Ajaz Ahmed, chairman of Quba, said: "We are a Sheffield based web technology agency specialising in applications, platforms and digital transformation. We've been looking to sponsor an event like Disruptors North for some time because it showcases very relevant subjects affecting business.
"The rate of change is fantastic, and we look forward to discussing how companies and entrepreneurs can benefit from all this change."
Ian Brown, chief executive of UKFast, added: "We are delighted to be a headline sponsor for the Northern virtual Disrupters conference, showcasing the latest innovations that are driving digital growth and transformation. As a leading North West tech business ourselves, this is a perfect opportunity for us to inspire and support local businesses and in particular play an important role in addressing Britain's digital skills gap."
The conference is being supported by a steering committee of industry insiders, including magneticNorth founder Lou Cordwell OBE and Sarah Tulip, head of digital transformation at BJSS and cofounder of Women In Leeds Digital.
More details about the session themes and speakers will be released shortly. If you would like more information about how your business could be involved in Disruptors North as a sponsor or speaker, please email sales@thebusinessdesk.com.
Secure your free place now and join the Disruptors on Wednesday, October 20.